The smallest fire vehicle on the market
With special measures and designed to be able to access the narrowest streets, thus guaranteeing a quality and immediate response.
Equipped with all the security measures and technologies of the market: front and rear cameras, driving aid systems and location of interventions through GPS with vectorized street covering areas, descent of stairs from the roof of automatically, etc.
Currently, it is the only fire vehicle of this size that complies with UNE EN:1846 for emergency and rescue vehicles.
Operating in the Town Hall of Barbate and in the Granada Fire Consortium.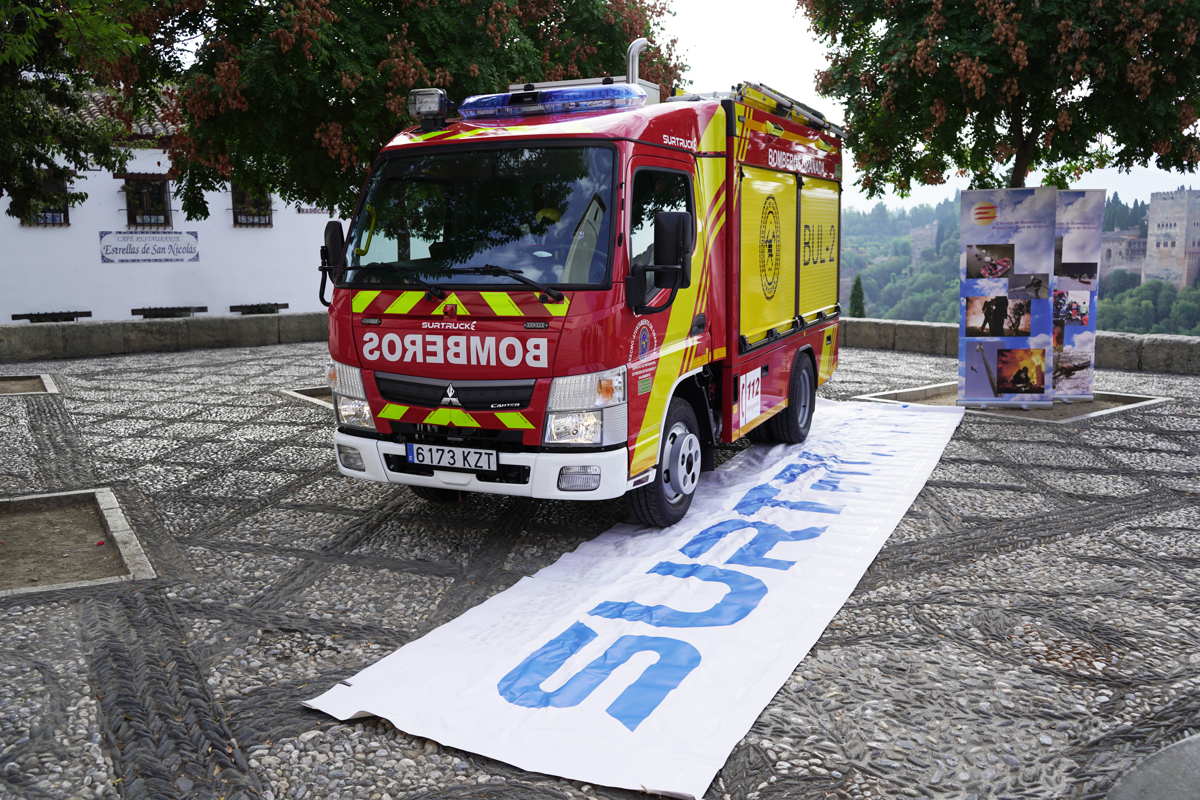 Technical characteristics chassis
Brand: FUSO
Model: 6S15
D.e.e.: 2,500 mm
Traction: 4×2
Cabin: Single 1+2 lazas
Power: 150 hp
Change: Manual
P.M.A.: 6,000 Kg.
Rear overhang: from 1,290 mm to 1,410 mm
Long. Total approx.: from 4,910 mm to 5,100 mm
Overall Width: 1,750 mm
Features Main Components
Construction process Certified in ISO 9001. ISO 14001.
BODY: Extruded aluminium profiles with a high degree of anti-corrosion resistance.
Maximum use of space, distributed in cabinets with closure by anodized aluminum shutters, watertight and very soft.
SUPPORT: Adaptable to the needs of the service, resistant and quick release of the equipment to be used. Structure of bolted guides that allow adjustments of the endowment.
Specific Equipment
Water tank of :1,000 lts capacity, built in aluminum
Centrifugal pump FPN 10-1000 + FPH 40-250
Reel soon relief with electric rewind
WARN Front Winch Option (Synthetic Cable)
Led priority optical signaling integrated in bodywork.
Ceiling arch with lighting, without protruding maximum dimensions of the body.
Security railing.
Folding ladder holder
Retractable lighting mast.
Rear view camera 7″ color (in BUL barbate); 360o vision camera with continuous recording and storage on internal hard drive (in BUL de Granada).
Removable support in endowment elements.
Presentation of the new vehicles for the Fire Service of Barbate (Cádiz)
Presentation in Granada of the new BUL for the Firefighters Consortium