Tank for irrigation and baling of drive roads by hydraulic oil auxiliary motor that allows to work with low speed of the main engine. The tank is polyester.
| | |
| --- | --- |
| 6,000 Lts | 12-Tn chassis |
| 8,000 Lts | 15-Tn chassis |
| 10,000 Lts | 18-Tn chassis |
| 16,000 Lts | 26 Tn chassis |
The above values may be affected depending on the chassis overhead.
Features
Adapted to IVECO, RENAULT, MERCEDES, SCANIA, or similar autobastidor.
Tank made of polyester reinforced with fiberglass.
Exterior fairing composed of a double outer wall with an intermediate polyurethane layer.
Hydraulic oil motor driven motor pump group coupled with oil pump coupled to chassis gearbox.
Multistage pump of 15 m3/h and 15 Kg/cm2.
Soundproof edify motor-pump room. Auxiliary motor cooling by water.
Two irrigation pineapples and double set of buckets.
Hose-holder reel with 25 mts. hose and 3-effects spear.
Electro pneumatic manipulator frame.
Control panel in cab for hydraulic system operation.
Loading mouth on the right side.
Three loading systems, by suction by means of the baldeo pump, by mains pressure and by gravity.
Flow drive with progressive regulation electrical control.
Tank level indicator tube.
Overflow tube with direct discharge to the ground without interfering with the chassis.
Approved time-travel device.
Fixed anti-cyclist protection bars.
White finish paint, just like the chassis cab.
Side tool holder drawer.
Swivel headlamp amber approved.
The project includes Technical Project and ITV.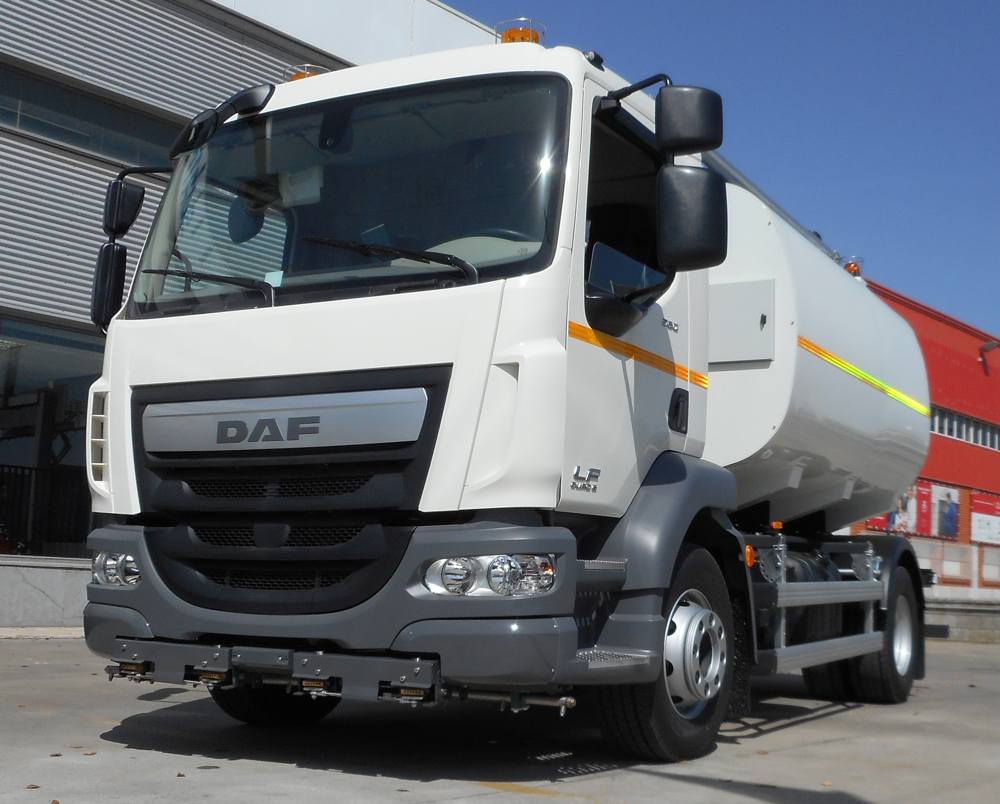 Optional
| | |
| --- | --- |
| Training course in the client's premises. (For fairings only). | Rear cabinet for the transport of bulky tools (for fairings only). |
| 17 l/min and 210 bar high pressure pump. | Non-slip ladder with folding railings. |
| Second hose-carrier reel, 25 mts. hose and spear. | Folding staircase with folding railings. |
| 10 m adjustable aluminium pole. hose and spear. | Rear irrigation bar by gravity or by pressure. |
| Joystick in cab instead of switch frame. | Cross bar of pressure bucket. |
| Vector of lights on cab. | Water meter. |
| Multistage pump of 15 m3/h and 18 Kg/cm2. | Rear view camera. |
| Multistage pump of 18 m3/h and 20 Kg/cm2. | Flow control system depending on the speed. |
| Pump supplement with shaft and stainless steel sleeves. | Water-saving system via Water-Air system. |
| Electric motor for winding with remote control. | Folding anti-cyclist protection bars. |
| Modification of the exhaust for couplings take force. | Enrolment. |
| Rear light panel. | |