Equipment for baling and cleaning of sidewalks, cleaning of underground, surface containers and urban furniture.

Remove gum, paint and stains on different surfaces.
Operating in the province of Jaén and in the town halls of Barcelona, Murcia and Palma de Mallorca (eleven units).
Features
Powered by 24 V electric motor.
12 Electrochemical cells connected in series.
Self-contained rechargeable equipment in the translation of the vehicle.
Compact and small size design.
High pressure pump from 10 l/min to 150 bar.
Water tank depending on the P.M.A. of the van:
3500 kg van: 800lts of water depending on payload.
Noise level dB(A) (at 7m)-62-66
Vehicle configuration
Chassis: IVECO DAILY 35S13
P.M.A.: 3,500 kg.
Maximum Power: 95 kW (130 hp)
Manual change
Wheelbase: 3,000 mm
Options
Hot water boiler 90 oC LPG.
Recharge batteries through the vehicle's own engine.
Swivel headlamp amber approved.
10 mts of crushable hose of 45 mm.
Chemical dispenser.
The set includes technical project + ITV.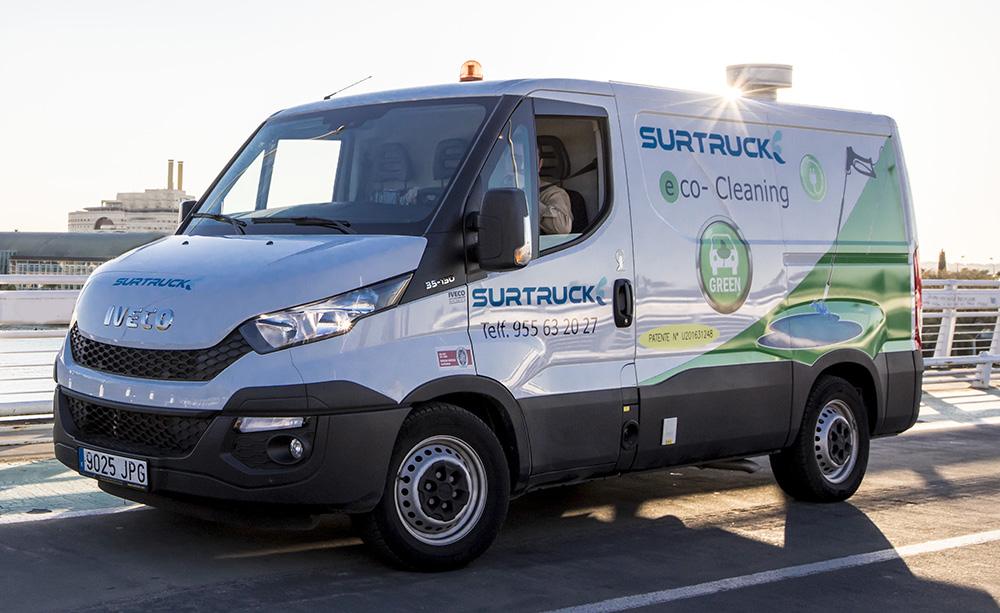 Eco-Cleaning promotional video
The intelligent Eco-Cleaning system
The Eco-Cleaning in Jerez
The Eco-Cleaning in Mairena del Aljarafe