High performance vehicle prepared to intervene in any type of intervention: long-lasting structural fires, traffic accidents, industrial fires, rescues and rescues.
Operating in Barbate Town Hall
Measures
– Length approx. 7350 mm. – Width 2500 mm.
Chassis
Mercedes-Benz, MAN, Renault.
4×2 traction
WFP: 13 – 15 Tons
 Wheelbase: 3600mm – 3800mm
Double cabin according to EN 1846.
Features
Low profile subframe, made of high elastic limit steel.
Body made of aluminum with 3 side shutters and 1 rear.
Interior lighting by LEDs.
Front and rear low arches.
3000 litre water tank made of polyester. It incorporates automatic overflow valve.
Pump FPN 10-2000-1H & FPH 40-250-3 according to EN 1028.
Automatic priming system.
Yields: 2850 l/min. 8 at 8 bar and 1.5 m. suction height. Warranty point 2000 l/min. 10 bar and 3 m. suction height.
400 l/min. 40 bar. Guaranteed point 250 l/min to 40 bar.
Reel soon high pressure relief with electric pickup and emergency manual.
Priority signaling: integrated lights on cab roof.
Electronic siren 3 tones 100 watts with public address.
Options
| | | |
| --- | --- | --- |
| Winch | Bridge of Lights | Side pump closed |
| Vertical escape | Strobe lights | Removable support |
| Tow hook | Directional lights | Pneumatic opening cab steps |
| Spare wheel | Light mast | Water tank 1000 litres |
| Pneumatic siren | Perimeter lighting | Provide foam |
| Batteries in removable media | Protection in lights | Deposit for foam |
| Quick exit system | Ceiling chest | |
| Seats for autonomous breathing equipment | Tailgate | |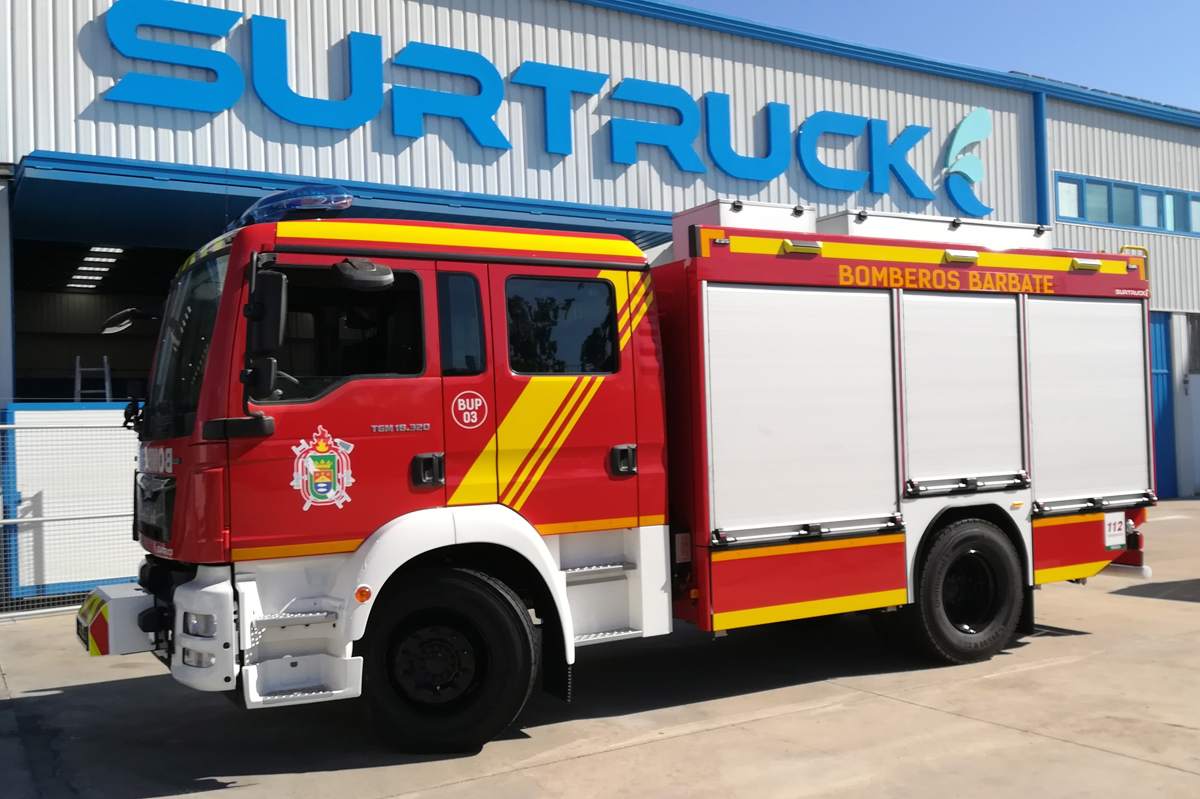 Presentation of the new Surtruck vehicles for Barbate City Council