TSR-Fire Maul
Hammer with an axe head. 4,3 kilos of 4140 steel with a hardness of 52 HRC and a 28″ (71.1 cm) composite handle. Black oxide coating applied to the head and patented grip to prevent the tool from slipping out of your hands.
Assembled by hand
Total weight of the tool: 5 kg
Halligan wedge
Flat back for easy knocking
Flat top area for use as a battering ram
Handle end piece included
Possibility of making the handle fluorescent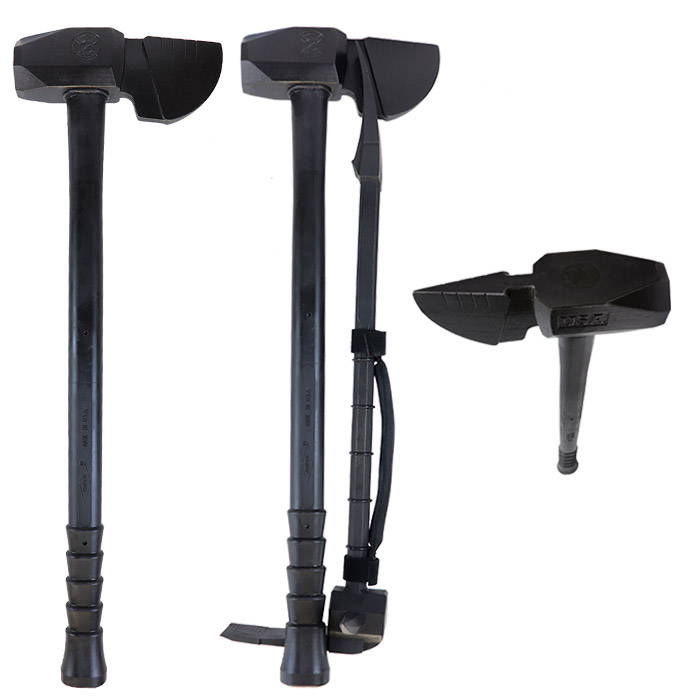 Mauler
Like the TSR Fire Maul, only lighter.
4140 steel head with black oxide coating and heat treated to give more hardness and resistance.
Total weight of the tool: 4.5 kg
Assembled by hand.
Notches to fit the Halligan around the head to allow it to be anchored
Straight back for better knocking.
Safety zone marked by the part of the head that reaches the handle.
Upper part totally flat to favour the water hammer and the lever.
Non-slip handle. Possibility of making it fluorescent.
Handle end piece included.
Available lengths for composite handle: 29″; 32″ and 35″ in black or red.
Sizes for walnut wood handle: 28″, 30″, 32″, 34″ and 36″