The company Urbaser has recently acquired a new soundproof hydrostatic tanker. The vehicle, designed and manufactured by Surtruck, is destined for the street cleaning service of the Espartinas Town Council (Seville).
Urbaser is the company in charge of this service in this municipality, following a contract signed with the council in December 2020. Surtruck's technology joins the fleet of vehicles that will operate in road and pedestrian areas of Espartinas, with a programmed intensive pavement cleaning service, dedicated to the removal of chewing gum, grease, oil and similar incrustations.
Last Saturday, a training day was held in the town for the service operators on the new tanker, given by Surtruck's technical and commercial staff.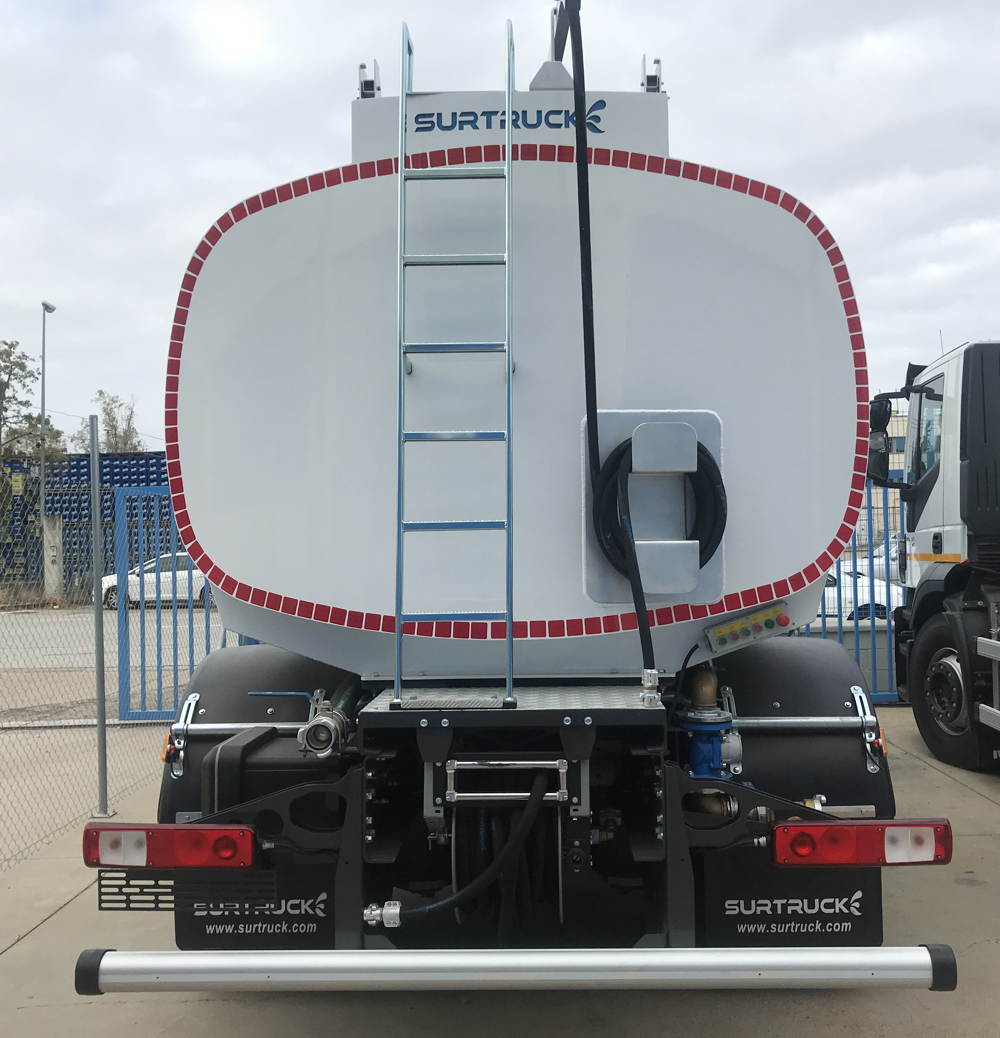 The technical characteristics of this equipment are:
10 m3 aluminium tank.
Multi-stage pump of 15 m3/h and 15 kg/cm2 with vertical arrangement. Patented system No. U201531155. With mechanical seal. Reduced head loss. Permanently primed by the tank. Only works when one or more of the cleaning elements are used.
18 HP oil hydraulic auxiliary engine connected to PTO to drive the pump.
Engine and pump installed on a bench inside a soundproofed compartment integrated in the tank.
Oil tank integrated in the tank.
Water distribution piping inside the tank.
Safe piping system. Design for compliance with Article 13.3 of the Road Safety Act.
Progressive flow regulator
Electro-pneumatic manipulator panel in cab for operation of front watering and flushing equipment.
Mains loading on the right side of the vehicle with 70 mm. diameter Barcelona coupling and 70/45 reduction.
Gravity discharge on the left side of the vehicle with 70 mm diameter Barcelona coupling. Diameter Barcelona coupling.
Tool drawer on the side of the vehicle.
Amber-coloured rotating beacon on cab.
Anti-underrun bar in accordance with legislation.
Articulated side protection bars.
Equipment painted in chassis colour, including epoxy treatment and surface enamel paint.
Renault Trucks D 18 Wide R4X2 Municip 280E6 chassis. 3200V Allison automatic gearbox.
Optional features integrated into the new vehicle include:
Chassis-integrated sprinkler and spray bar with two sets of adjustable nozzles with venturi effect. Patented design No. 0522712 3. Complies with R61 and R93 regulations.
Two side sweepers.
Manually operated rear reel with 25 m of 25 mm diameter semi-rigid hose. Lance for adjustable medium jet pressure.
Rear anti-slip ladder and folding protection railings on the vehicle roof.
360º pole.
Chemical product dispenser (hypochlorite).