Since 10 May, the Gelves Town Hall Cleaning Service has had an electric pressure washer, Eco-Cleaning, designed and manufactured by Surtruck. On that date, the vehicle was delivered and a training day was held for the operators of the municipality, by Antonio J. Venegas, commercial director of Limpieza Vial and O&M Termosolares.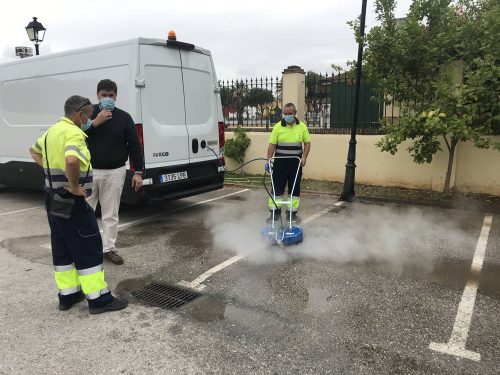 This new acquisition represents an important step forward for the municipality, as it will be able to offer its residents a more complete and frequent service for cleaning and disinfecting the streets and squares of the town.
The equipment was officially received by the Mayoress of Gelves, Isabel Herrera, who was accompanied by several members of her government team and municipal staff, including the Public Services Delegate, Sandra Domínguez, and the General Manager of Works and Services, Manuel Velasco. On behalf of Surtruck, in addition to the commercial director, also in attendance were Miguel Márquez, head of the Technical Service, and Francisco Fernández, a Surtruck collaborator.
The technical characteristics of the new Eco-Cleaning are as follows:
800-litre polyethylene water tank (calibrated according to the vehicle's payload).
High pressure pump of 150 Bar and 10 l/min, driven by a 24V electric motor.
Lithium batteries, modules composed of 8 3.2V LiFePO4 cells with a capacity equivalent to 320Ah.
Recharging of the batteries while the vehicle is moving, thanks to Surtruck's patented energy generation system.
Two chemical dispensers, one for bleach.
Self-retracting rear hose reel with 25 metres of hose.
High pressure lance with quick link and nozzle.
Filling hose, BCN 45 fittings, 10 m long.
Pressure indicator with safety system.
Control panel.
Propane boiler, generates wet steam.
Floor washing hood.
It has a register at the rear to operate the high-pressure hose reel without having to open the vehicle doors.
Aluminium tray for chemical product bottle next to the dispenser.
LED type work light.
Floor coated with epoxy paint.
Rear view camera.
Aluminium interior lining.
Bodywork on IVECO DAILY 35S14H V with wheelbase: 3.520mm.