The new road cleaning vehicle has been designed and manufactured by Surtruck for the company Urbaser, and its destination is the cleaning service of the Municipality of Amposta, in Tarragona. It is a soundproof hydrostastic tank, with aluminium tank and 8 m3 capacity.
Along with the delivery of the cistern, made this week, the city council operators have received a training day from Antonio Venegas, commercial director of road cleaning and O&M Termosolares de Surtruck.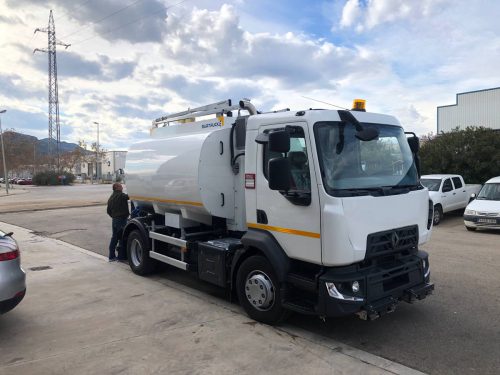 The vehicle has been bodywork on a Renault D 16R4X2 MUNICIP250E6 chassis, with a wheelbase of 3,500 mm., and its technical characteristics are as follows:
Multistage pump of 15 m3/h and 15 kg/cm2 with vertical arrangement. Patented system No. U201531155. With mechanical closure. Decreased load loss. Barley permanently by the cistern. It only works when using one or more of the cleanup elements.
18 hp hydraulic oil auxiliary motor connected to TDF for pump operation.
Engine and pump installed in bench inside a soundproof cabin integrated into the tank.
Oil tank integrated into the tank.
Water distribution pipes inside the cistern.
Irrigation bar and bucket integrated into the chassis with two sets of adjustable nozzles with venturi effect. Patented design No. 0522712 3. Complies with R61 and R93 regulations. Safe driving system. Design for Compliance with Section 13.3 of the Road Safety Act
Progressive flow regulator
An adjustable pole with 10 meters hose and lance for adjustable half jet pressure.
High pressure pump for hydrostatic tank with high reel and spear
Box of electro-pneumatic manipulators in the cab for operation of the front irrigation and bucket equipment.
Loading of mains on the right side of the vehicle with 70 mm Barcelona fitting. 70/45 diameter and reduction.
Gravity discharge on the right side of the vehicle with 70 mm Barcelona fitting. diameter.
A 25 m manually operated rear reel. 25 mm semi-rigid hose. diameter.
Adjustable half-pressure jet lance.
Rear non-slip ladder.
Folding roof protection rails of the vehicle.
Tool drawer on the side of the vehicle.
An amber swivel headlight on the cabin.
Anti-recess bar according to legislation.
Articulated side protection bars.