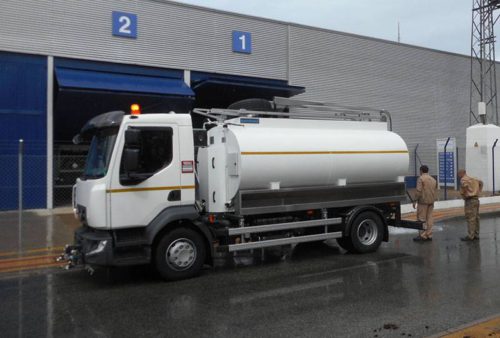 The Municipal Housing and Soil Company of Arroyomolinos (Emuvisa) has awarded Surtruck the contracting of supply in the purchase of irrigation and bucket tanker truck for entrusting services and maintenance of municipal green areas of this town.
Surtruck has been the contracting company for having submitted the most advantageous offer. It is a hydrostatic soundproof tank with aluminium tank that has a capacity of 9,500 liters.
The vehicle is made of a Renault D 16 MED R4X2 210E6 chassis, purchased from Renault Truck Center in Madrid-Getafe, and its main features are as follows:
9,500 lts (real) tank adapted to the vehicle frame.
Tank built in special duralumin INOXST83 5 mm thick with SURTRUCK certification.
Multistage pump of 15 m3/h and 15 Kg/cm2 with mechanical closure and vertical arrangement (Patent No. U201531155)
Front bar for irrigation and integrated flaking. Complying with Regulations R61 (outer protrusions in front of the cab) and R93 (front anti-emprotation protection)
Hose reel with swivel fitting and 25 m, hose with adjustable lance, located in the rear of the vehicle between lengths of the frame without increasing the overhang of the vehicle.
Control panel in the cab for the operation of the hydraulic system composed of electropneumatic handlers.
Safe driving system in compliance with Section 13.3 of the Road Safety Act
Loading and emptying mouth on the right side.
Flow drive of progressive regulations (0% to 100%).
Water level indicative tube in the tank.
Overflow tube with direct discharge to the ground, without interference to the chassis or mechanical elements.
Approved time-travel device.
Anti-cyclist protection bars.
White finish paint, just like the chassis cab.
360o adjustable aluminium pole with 10 m. hose and spear.
Swivel headlamp amber approved.
Side handles for tools.
Side tool holder drawer.
The vehicle is now in its manufacturing phase and will be delivered around November.