The municipal company Calviá 2000, in charge of road cleaning in the City of Calviá (Mallorca), has acquired in this month of March two Eco-Cleaning vehicles, designed and manufactured by Surtruck.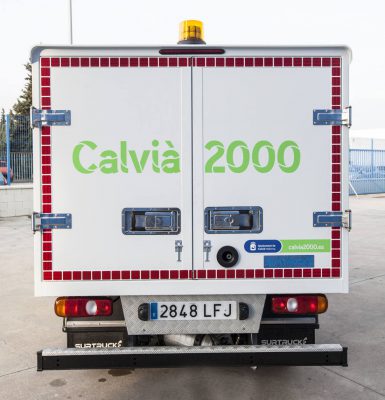 These are two completely electrical equipment of small dimensions, with intelligent battery recharge system, and that are already operational on the streets of this municipality.
On 4 and 5 March, the vehicles were delivered, as well as training sessions by Surtruck's technical staff.
The tender was awarded in November last year, with a deadline of 6 months for delivery.
The technical characteristics of the two Eco-Cleaning are:
Chassis: FUSO CANTER 3S15 EURO 6
Wheelbase: 2,500 mm
MMA: 3,500 kg
Cabin width: 1,690 kg
High pressure hydrocleaner equipment and electric drive.
Powered by DC electric current motor.
12 electrochemical cells connected in series.
Battery recharge kit through the vehicle's own thermal motor.
High pressure pump, with 100Bar and 15 l/m.
Water tank of 600 liters capacity, made of polyethylene.
Retractable collection winding winder with 25 meters of high pressure hose.
10 meters of 45 mm crushable hose with Barcelona fitting for filling the tank.
Chemical dispenser.
Anti-calcareous product doses.
Swivel led headlamp amber.
Non-slip loading area floor covering by Finnish panel on ultralight platform.
Roof, front and side body with sandwich panel 18mm. Includes side door and 2 book back doors.
Registration in right rear door, to work with the doors closed.