The DP3000 portable monitor is made of lightweight aluminium and designed to handle flow rates up to 3000 LPM.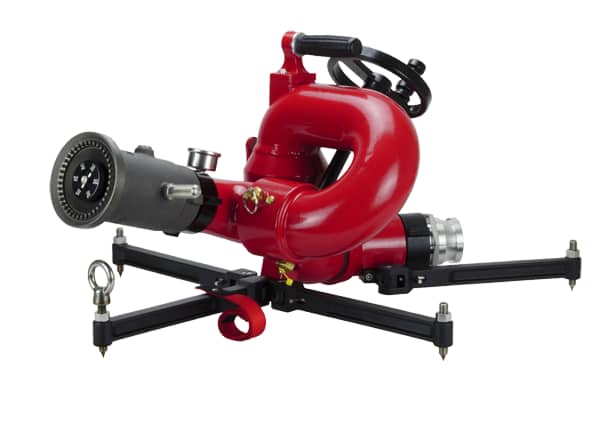 It is designed to work with both water and foam concentrate by adding the nozzle/flanges for this purpose.
The base folds up for easy storage. It incorporates a system of pins to lock it in a simple and easy way. Vertical movement is by means of a closed gear system that incorporates a safety stop at 30º above horizontal.
This monitor can be upgraded from a portable to a fixed version by means of a mounting flange (sold separately) which increases its elevation from 3000 lpm to 4500LPM and increases its elevation to 60º above horizontal.
Assembled with 2 2 ½" BSP inlets allowing for adapters of any type.
Specifications
Body: Hard anodised aluminium
Finish: Red
Maximum Flow Rate: Portable 3000 LPM / Fixed 4500 LPM
Maximum operating pressure: 10 bar
Lift: 30º to 90º Elevation: 30º to 90º
Rotation: Portable – 320º / Fixed – 360º Rotation: Portable – 320º / Fixed 360º Rotation: Portable – 320º / Fixed – 360
Inlet: Portable 2×2 ½" BSP Female / Fixed 4″ ANSI Flange
Outlet: 2 ½" BSP Male
Weight: 15 kg