The fire brigade of the Cádiz Consortium test and check the optimum performance of the product
One of Surtruck's services is to offer quality equipment to its customers. For this purpose, they try to carry out real tests to demonstrate the efficiency and range of the different items. The Commercial Director of the Product Division, Teresa Gentil Lagoa, explained that the firefighters of the Provincial Consortium of Firefighters of Cádiz decided to test the product to verify its properties and confirm its quality.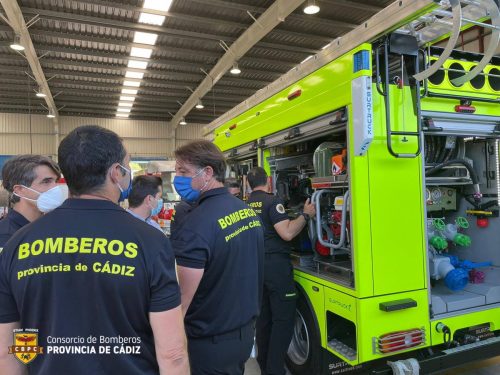 As will be recalled, Surtruck is manufacturing 23 BUL (Light Urban Pumps) vehicles for the Cadiz Consortium, as signed in the award contract in December 2020. Throughout the discussions to finalise the design of the vehicles, Surtruck asked the professionals to test the PRIMA equipment, which allows the use of foaming concentrations of 1%, 3% and 6%. In the test with 1% foam concentrate, it took almost 20 minutes to empty the equipment, a time that makes it highly recommendable because of its interesting duration.
Another test they did was to connect the equipment at 3% to a fan, with its corresponding rigging, and it also worked very well. In this operation, the Cadiz fire brigade replaced the proportioner and the foam concentrate canister with the PRIMA equipment and it worked very well. This is great news for responding to fires from small vehicles, since it would not be necessary to carry many elements.
These practical tests, according to the Commercial Director of the Product Division, give Surtruck peace of mind "because we like to sell the most effective products, and there is no better guarantee than good results after having been tested by professionals".