On 12 March, Surtruck's technical service team held a training session for the cleaning workers of Rojales Town Council. In this municipality, the new vehicle designed and manufactured by Surtruck will provide service: a soundproof hydrostatic tanker on a self-supporting subframe, with an aluminium tank and a capacity of 7m³.
The tanker has been manufactured for the company OHL Servicios Ingesan, concessionaire of the street cleaning service of the Rojales Town Council, and responsible for cleaning the town centre, urbanisations and districts.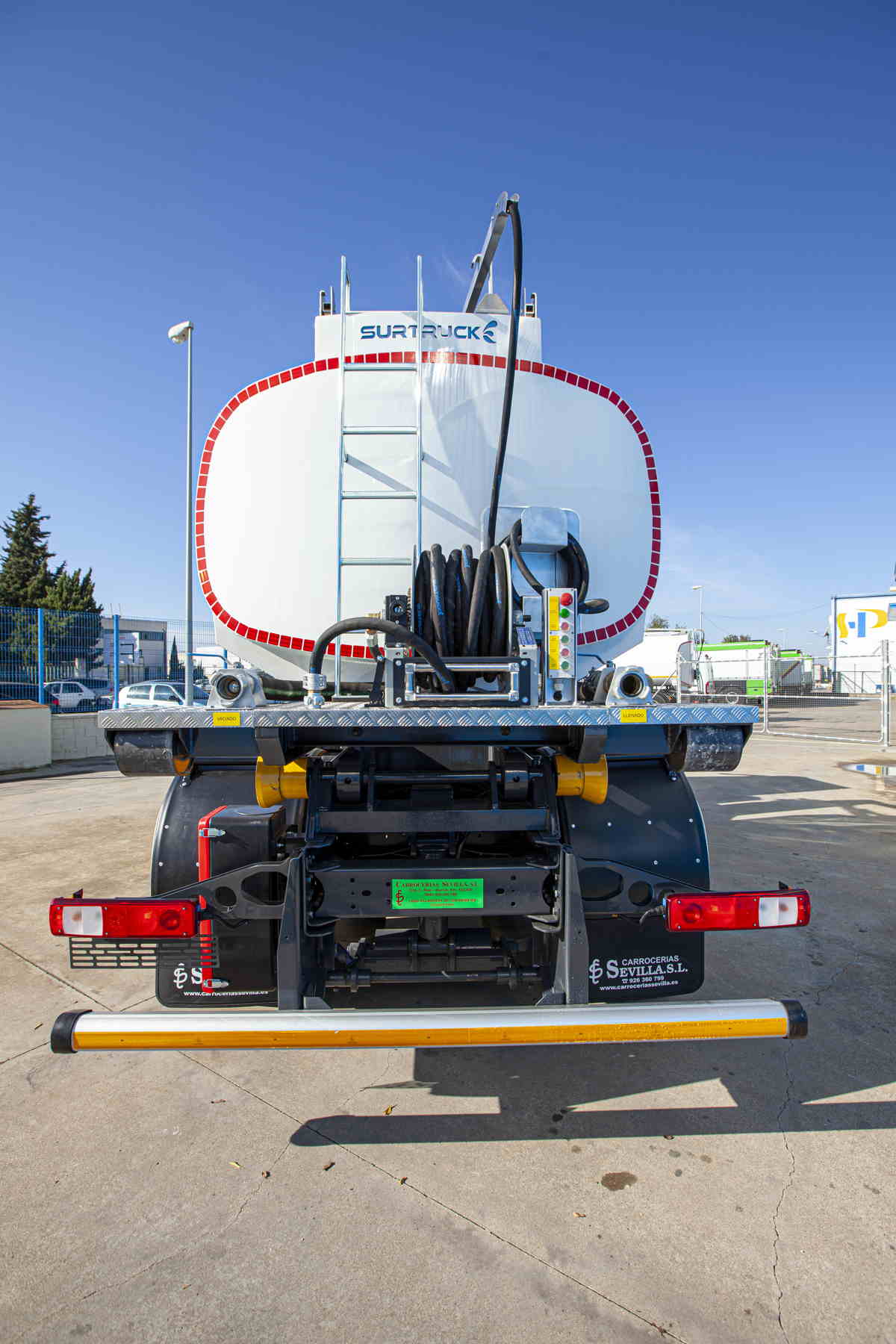 The technical characteristics of this equipment are:
15 m3/h and 15 kg/cm2 multistage pump with vertical arrangement. Patented system No. U201531155. With mechanical seal. Reduced head loss. Permanently primed by the tank.
18 HP oil hydraulic auxiliary engine connected to PTO for pump drive. Engine and pump installed on a bench inside a soundproofed compartment integrated in the tank. Oil tank integrated in the tank.
Water distribution piping inside the tank.
Integrated watering and flushing bar in the chassis with two sets of adjustable nozzles with venturi effect. Patented design No. 0522712 3.
Complies with R61 and R93 regulations. Safe drive system. Designed to comply with Article 13.3 of the Road Safety Act.
A steerable pole with 10 metres of hose and lance for adjustable medium pressure jetting.
A manually operated rear reel with 25 metres of semi-rigid hose g 25 mm in diameter. Lance for adjustable medium pressure jet.
Progressive flow regulator.
Electro-pneumatic manipulator panel in cab for activation of front watering and spraying equipment.
Mains loading on the right side of the vehicle with 70 mm diameter Barcelona coupling and 70/45 reduction.
Gravity discharge on the right side of the vehicle with 70 mm. diameter Barcelona fitting.
One amber rotating beacon on cab.
Anti-underrun bar in accordance with legislation.
Articulated side protection bars.
Painting of the equipment in the colour of the chassis, including epoxy treatment and surface enamel paint.
Adaptation to self-supporting subframe.
Rear anti-slip ladder. Folding protection rails on the roof of the vehicle.
Tool box on the side of the vehicle.
RENAULT D18 WIDE 4X2 280E6 chassis with Jimeca JI-10.000-L multi-tipper installed by Carrocerías Sevilla.
Operation of the self-supporting sub-frame: