The new warehouse will be operational in January, as well as its new headquarters in Madrid, and will increase the workforce by 50%
Surtruck is growing. The Seville-based manufacturer of fire-fighting, street-cleaning and special vehicles has just acquired a warehouse just a few metres from its current headquarters, in the Los Espartales Business Park, which will add 4,000 square metres to its facilities and allow it to double production, which currently stands at around one hundred vehicles per year, to 200.
The company's manager, Juan Gallego, expressed his satisfaction with this agreement, considering that "it will allow us to respond to the orders we have already committed to and to be able to grow". In fact, Surtruck, with a staff of 50 workers, estimates that from 1 January its payroll will rise to 75 people, 50% more than at present. This will also include the staff that will be installed in its new headquarters in Madrid, close to Getafe, who are already being trained in Seville to be able to offer a 24-hour workshop service as of 1 January. Thus, the 500 square metres of the Madrid workshop and the 100 metres for offices will be added to Surtruck's total surface area, which will be around 9,000 square metres in 2022.
Surtruck was founded in 2015 to manufacture narrower than usual fire fighting vehicles and cleaning vehicles with extreme sustainability and low noise levels, something that is in great demand in this sector. That commitment made them pioneers in the market with narrow and electric vehicles. The fact that all the products they manufacture are certified and comply with the different safety requirements has consolidated them as pioneers in both markets.
Surtruck's BUL (Light Urban Pump) and VAT (Support and Transport Vehicle) are already all over Spain, as are their sustainable cleaning vehicles. And the aim, having its own headquarters and workshop in Madrid, will be to grow in the centre and north of the country. Thus, the company expects to almost double this year the turnover of 2019 (pre-covid year), which stood at 3.5 million euros, as it plans to close the year with around 6 million euros. And by 2022 the final figure could rise to 10 million euros.
Sustainable and certified vehicles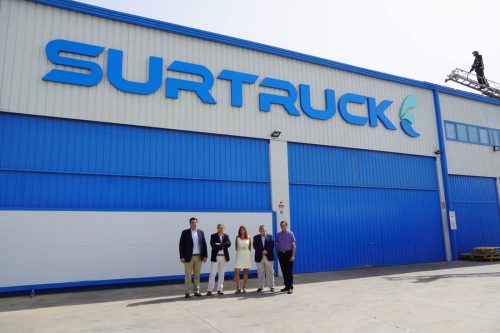 The quality of the vehicles and the constant commitment to innovation are the keys to Surtruck's success, according to its manager. In fact, the production plant is currently working on a new generation of narrow vehicles: the smallest BUL on the market (1.75 metres wide) will circulate in October in one of the narrowest urban areas in Spain, Toledo, with a double cab, so that, for the first time on the market, the vehicle, in addition to carrying firefighting equipment, has the possibility of extinguishing with its own water tank.
Sustainability is another of Surtruck's key features, together with low noise emissions. Vehicles that consume less and less and that are characterised, in the case of the Eco-Cleaning, by the absence of noise. "Five years ago, we were pioneers in the production of noise-free street-cleaning vehicles. Since then, our equipment has had minimal noise emissions and is non-polluting, which is now required by law. And we make sure that they have all the safety certifications, both for cleaning and fire protection, something that not everyone in the sector requires and which is not common. For us, on the other hand, it is fundamental, because it demonstrates the quality of the vehicles we manufacture", the manager emphasises.