The 48 volt Eco-Cleaning electric cleaning system is 100% safe for the operator.
Surtruck has brought to EcoFira the first 100% electric cleaning tanker marketed in Spain. This innovation also complies with the demands and recommendations of the sector's trade unions in terms of preserving the physical integrity of workers. The union representatives highlight the requirement that vehicle motors must be 48 volts, a requirement that Surtruck has assumed in its R&D&I until the tanker complies with this requirement.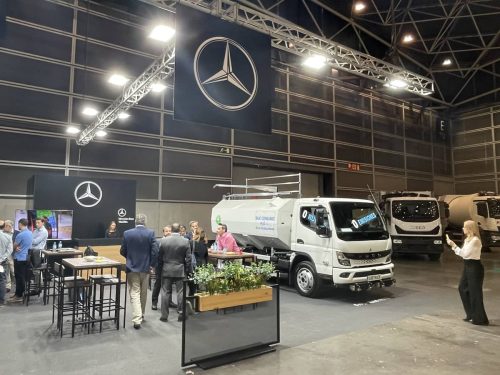 Thus, the Andalusian company has designed a specific technology for this first unit carrozada for sweeping on narrow vehicle Fuso 9-ton electric new generation, which is until today at the stand of Valdisa, in EcoFira.
The manager of Surtruck, Juan Gallego, the commercial director of Cleaning, Antonio Venegas, and the delegate in Madrid, Luis Fernando Martín Daza, have been in Valencia since Tuesday to explain a technology that once again places them as pioneers in the design and bodywork of cleaning vehicles. An evolution that includes patents such as the Eco-Cleaning cleaning system and low consumption of 100% water.
The vehicle presented by Surtruck is the first new-generation Fuso 9-ton electric narrow-bodied vehicle for sweeping on a Fuso 9-ton narrow-bodied vehicle. It has independent 48-volt motors for sweeping, guaranteeing 100% worker safety by complying with technical and union requirements. With a capacity of 4,000 liters of water, it has autonomy for two work shifts and has achieved a reduction of half the water consumption compared to previous generations of vehicles. It is precisely this factor that has positioned the company as a supplier of cleaning vehicles for the United Arab Emirates.
Once again, Surtruck did not want to miss the Ecofira International Environmental Solutions Fair, which ends today. Aimed at Environmental Operators, Manufacturers, Consultants, Environmental Engineering, Local Administrations, Purchasing Managers, Installation and Maintenance Companies, Professionals from R&D&I Centers, among others, it is a benchmark in the sector. Ecofira brings together all areas of interest in environmental management, from waste collection, transport and treatment to waste recovery and recycling or disposal systems.