The hydrostatic, soundproofed model is ready for operation as training for its use has already been carried out.
The municipal cleaning company of the Alcalá de Guadaira Town Council, AIRA, has taken delivery of a state-of-the-art watering and flushing cistern manufactured by Surtruck in accordance with the technical specifications, and is now ready for operation, as Antonio Venegas, Surtruck's Commercial Director of Street Cleaning, explains, "we have trained the municipal staff. Our trainers have explained the operation of the tanker to nine operators so that they can get the most out of it".
This is the first cleaning vehicle that Surtruck has manufactured for Alcalá City Council and Antonio Venegas highlights the fact that it has been delivered on time. "It has been difficult to meet the deadlines set by the tender due to the shortage of raw materials and the difficulties imposed on us by the market in terms of distribution of materials and costs, but we have finally succeeded," he says.
Venegas emphasises that this is a state-of-the-art cistern, a soundproof hydrostatic model, which will meet the demands of a population of the size of Alcalá de Guadaíra and the trend towards sustainability, without emissions and with maximum efficiency, which is the hallmark of today's society.
TECHNICAL CHARACTERISTICS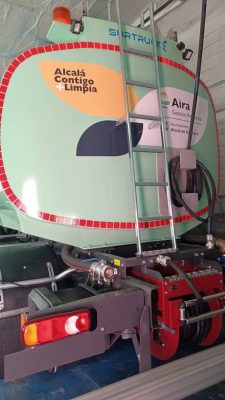 The equipment is characterised by:
15 m3/h and 15 kg/cm2 multistage pump with vertical arrangement. Patented system No. U201531155. With mechanical seal. Reduced head loss. Permanently primed by the tank.
18 HP oil-hydraulic auxiliary motor connected to PTO for pump drive.
Engine and pump installed on a bench inside a soundproofed compartment integrated in the tank.
Oil tank integrated in the tank.
Water distribution pipes inside the tank.
Integrated watering and flushing bar in the chassis with two sets of adjustable nozzles with Venturi effect. Patented design No. 0522712 3.
Complies with R61 and R93 regulations.
Safe driving system.
Progressive flow regulator
Electro-pneumatic manipulator panel in cab to operate the front watering and spraying equipment.
Mains loading on the right side of the vehicle with 70 mm diameter Barcelona fitting and 70/45 reduction.
Gravity discharge on the right side of the vehicle with 70 mm. diameter Barcelona coupling.
An adjustable pole with 10 metres of hose and lance for medium pressure adjustable jet.
One hydraulically operated rear reel with 25 metres of semi-rigid hose, 25 mm diameter.
Lateral buckets.
Lance for adjustable medium jet pressure.
Rear anti-slip ladder.
Folding protection rails on the roof of the vehicle.
Tool drawer on the side of the vehicle.
One amber rotating beacon on cab.
Anti-underrun bar in accordance with legislation.
Articulated side protection bars.
Fire extinguisher.
Painting of the equipment in the colour of the chassis, including epoxy treatment and surface enamel paint.