This represents 0.5 % of annual profits and will enable the purchase of 3,400 litres of milk for needy families.
Three years ago, the Surtruck staff decided to give up the Christmas hampers they received and which they also gave to their customers in order to make a donation, with the entire budget, to the Seville Food Bank. This year, the donation was again made by means of a bank cheque that the Commercial Director of the Products Division, Teresa Gentil, and the Commercial Director of Fire Fighting Vehicles, Manuel Santana, handed over to the Marketing and Insertion Programme Coordinator, Juan Pedro Álvarez, during a visit to the facilities of the non-profit organisation.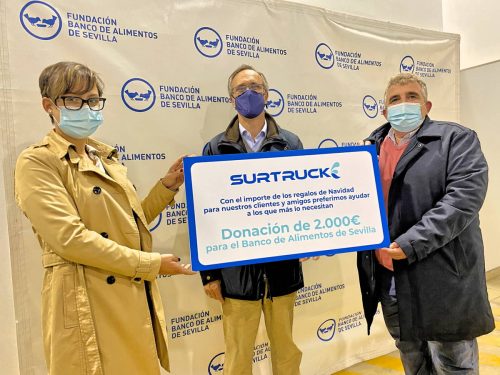 The representative of the Banco de Alimentos showed Teresa Gentil and Manuel Santana the different warehouses where the donations and products they acquire are stored and explained that the organisation helps 45,000 families, half of whom live in Seville city and half in the province. To carry out this service, the Food Bank has an average of a hundred volunteers in its structure and up to 5,000 collaborators throughout its annual campaigns. This wonderful work has been carried out for more than 26 years and helps families in need to get by. Thanks to the generosity of the people of Seville, they find a small outlet for the basics through the batches of food that are delivered to them.
Surtruck's donation represents 0.5% of the profits budgeted for this year and will enable the purchase of 3,400 litres of milk to be distributed among the families in the province of Seville who need it most.