On 9 and 10 September, the company Valoriza Medioambiente organised the start-up and training days for four irrigation and flushing tanks that are starting to operate in the Santa Cruz de Tenerife cleaning service. The training was given at the facilities of the Hoya Fría station 16, Polig Ind el Mayorazgo, by Miguel Márquez, head of Surtruck's technical service.
Workshop personnel and service operators were instructed in the handling and operation of these four vehicles designed and manufactured by Surtruck.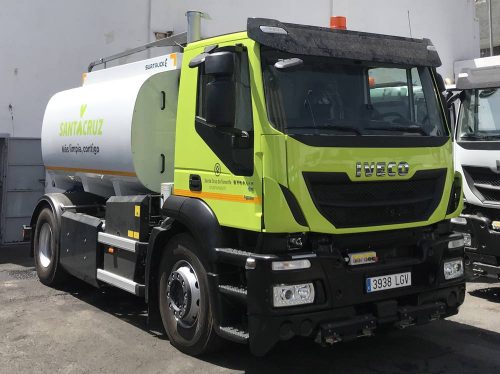 Among the technological novelties of its design, the new equipment incorporates an automatic collection reel, located behind the cab, with the hose coming out of the vehicle's calender and without any dangerous elements or those that protrude from the body. In this way, the operators who perform the manual cleaning will do it in a safer way.
The technical characteristics of the tanks are as follows:
10 m³ aluminium tank
15 m3/h and 15 kg/cm2 multistage pump with vertical arrangement. Patented system NºU201531155. With mechanical seal. Reduced pressure loss. Permanent barley through the tank. Only works when one or more of the cleaning elements are used.
18 HP auxiliary oil hydraulic motor connected to the crank end to drive the pump.
Oil tank integrated into the tank.
Engine and pump installed on a base inside a soundproofed cabin integrated into the tank.
Water distribution pipes inside the tank.
Watering and flushing bar integrated into the chassis with two sets of adjustable nozzles with venturi effect. Patented design No. 0522712 3. Complies with regulations R61 and R93.
Safe driving system. Design for compliance with Article 13.3 of the Road Safety Act
Progressive flow regulator
Electric manipulator panel in the cabin for operating the front irrigation and washing equipment.
Network load on the right side of the vehicle with a 70 mm diameter Barcelona connector and 70/45 reduction.
Unloading by gravity on the right side of the vehicle with a 70 mm. diameter Barcelona connector.
Pole vault that can be rotated 360º with 15 metres of hose and lance for adjustable medium-pressure jet.
High pressure pump (21l/min 210 bar) with 25m reel and Ø1/4″ and high pressure lance.
An automatically operated front reel with 25 metres of semi-rigid hose with a diameter of 25 mm.
Lance for adjustable medium-pressure jet.
Non-slip rear ladder.
Folding protection rails on the vehicle roof.
Tool box on the side of the vehicle.
A rotating amber headlight on the cabin.
Anti-embedding bar according to legislation.
Hinged side protection bars.
Painting of the equipment in the chassis colour, including epoxy treatment and surface enamel paint.
Chassis data:
IVECO STRALISS AD190533 P AUT RSU, with 3800 mm wheelbase and CNG engine.