The company SAG, in charge of urban cleaning and sanitation in the municipality of Sagunto (Valencia), has acquired by tender a soundproofed hydro-cleaning van, designed and manufactured by Surtruck.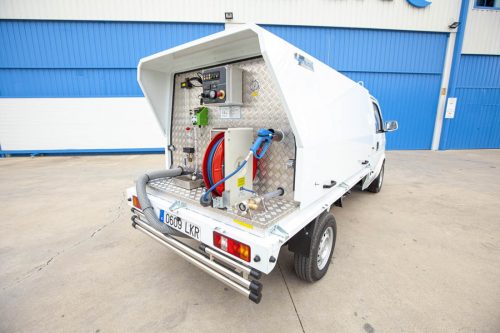 The street cleaning equipment, which is mounted on a DFSK C31 chassis, is already the third vehicle that this company receives from Surtruck, after the delivery in past years of a soundproofed hydrostatic tank and other hydrocleaning equipment.
The technical characteristics of this vehicle include
Self-supporting chassis.
Driven by an auxiliary 24CV diesel engine with electric start.
High pressure pump with 15 l/m and 300 Bar.
Soundproofed motor-pump unit.
Sound power of 89 Lwa.
400 litre capacity water tank, made of polyethylene (calibrated according to the vehicle's payload).
Retractable collection reel with 25 metres of high pressure hose.
10 metres of 45 mm crushing hose with Barcelona connector for filling the tank.
Chemical products dispenser.
Rotating amber led light.
Oil-driven boiler, up to 90º.
Aluminium fairing.
The new hydrocleaner van has recently arrived in Valencia, and a training session will soon be held, led by Surtruck's technical and commercial staff, for the Sagunto Town Hall workers.