The battery body weighs only 200 kilos and carries the same cubic metres of water as other systems.
The first cistern manufactured with a lithium battery has recently left Surtruck's facilities. Its destination, the town of Vilaseca, having been acquired by Urbaser. It is a very technologically advanced and lightweight piece of equipment, as the battery body weighs only 200 kilos. The passenger compartment is integrated into the tank and it has managed to hold practically the same cubic metres of water as a hydrostatic system.
In addition to these features, the tank can be operated with the chassis switched off, fuel consumption is reduced, pollutant emissions from the chassis are reduced, as are maintenance costs. Not to mention the fact that the equipment is classified as having zero pollutant emissions and zero noise emissions. And one of the most important features: the system is 100% safe for the operator, since it works at 48 volts, a peace of mind for both the company and the staff.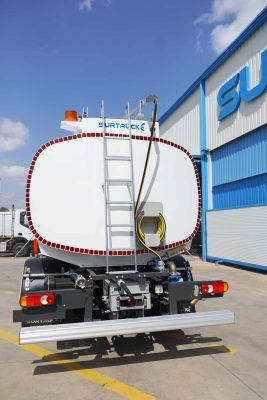 ECO-CLEANING CISTERN
5 mm thick aluminium tank.
Multi-stage 15 m3/h and 15 kg/cm2 pump with vertical arrangement. Patented system No. U201531155. Mechanical seal. Permanently primed by the tank.
10 kW electric motor to drive the pump.
LiFePo4 batteries. Pack of 2 x 48v batteries.
External charging charger.
System for recharging the batteries when moving the vehicle.
Battery control monitor (consumption and time).
Aluminium cabinet to house the equipment.
Fans for gas evacuation.
Engine and pump installed on a bench inside a soundproofed compartment integrated in the tank.
Water distribution pipes inside the tank.
Progressive flow regulator.
Electro-pneumatic manipulator panel in the cab to operate the front watering and flushing equipment.
Mains loading on the right side of the vehicle with a 70 mm.
Barcelona 70 mm. diameter and 70/45 reduction.
Gravity discharge on the left side of the vehicle with 70 mm. diameter Barcelona coupling.
Rear anti-slip ladder.
Folding protection rails on the roof of the vehicle.
Tool drawer on the side of the vehicle.
One amber rotating beacon on cab.
Anti-underrun bar in accordance with legislation.
Articulated side protection bars.
Painting of the equipment in the colour of the chassis, including epoxy treatment and surface enamel paint.
Optional extras included:
Electronic water level in the vehicle cab.
Swivelling aluminium pole
Set of side sweepers
Lower cross bars in front of 2 axles
Sweeping bar
Integrated in the chassis with two sets of swivelling nozzles with Venturi effect. Patented design No. 0522712 3. Complies with R61 and R93 regulations.
Safe driving system. Designed to comply with Article 13.3 of the Road Safety Act.
Inclination of the spray bar.