The Andalusian company manufactures the only FUSO of reduced dimensions that have the manufacturer's certification.
Surtruck will be in Hannover from 20 to 25 June to exhibit its latest innovations in fire protection at Interschtuz, the leading trade fair for safety, which is held every five years. Surtruck's location at the show will be Open Air Site P50, a stand from which it will attend to all customers and suppliers who come to learn about the company's new products.
The Commercial Director of Fire Fighting Vehicles, Manuel Santana, highlighted that "Surtruck is making a very strong commitment to Interschutz because this fair comes to our company when we have evolved a lot in the manufacture of fire fighting vehicles and we produce the only BUL on FUSO of reduced dimensions that have the necessary certifications, approvals and tests to be able to perform their function".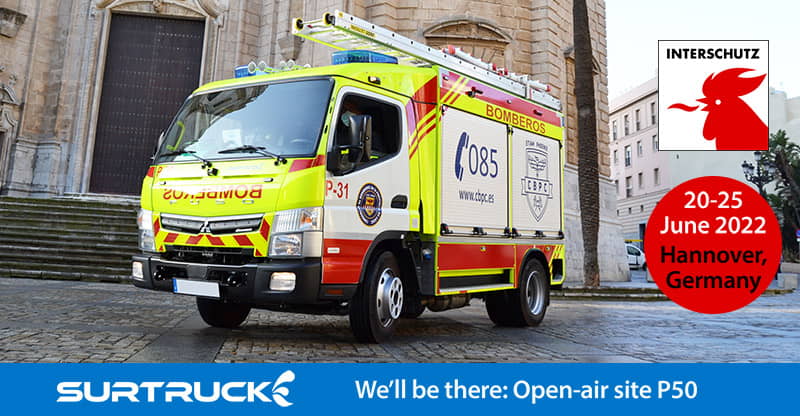 Surtruck's fire extinguishing vehicles are constantly evolving because the company is constantly committed to offering the latest technology and another particularity: adapting to the needs of its customers, something that makes them improve every day. The latest production, the BULs manufactured for Cádiz, are characterised by being very narrow vehicles that add to their efficiency details such as a 360º recording vision system, a one thousand litre water tank with pressure regulator that guarantees a constant water flow, both at low and high pressure, a width of two metres, a turning radius of 4.9 metres and, what is most valued in urban areas: less noise and less vibrations to guarantee the population a good night's rest.
In addition to all these features, the vehicles have a powertrain certified by Mercedes Benz partner Paul. Another of the novelties that Interschtuz Surtruck brings to Madrid is its delegation, the new facilities in Getafe, in the Los Ángeles industrial estate. These 500 square metres are already at full capacity to attend to customers and offer their own workshop service. One more attraction for those European companies and institutions looking for the latest in Fire Protection.