Professionals highlight the efficiency and performance of a design made exclusively for the forestry brigade.
Carrying two extra occupants without having to do away with tools and fire-fighting equipment. This was the challenge Surtruck set itself when it began to receive orders from one of its suppliers, Bujarkay, to manufacture forestry maintenance vehicles in Andalusia. The engineers at the Seville-based firefighting, street cleaning and special vehicles manufacturer saw the need to maximise the seating capacity of the 4x4s, with the challenge of being able to transport the largest number of occupants without reducing the firefighting capacity.
Surtruck brought all its experience in firefighting, with patents and models marketed throughout Spain since 2015, and took it to the forestry field. The result has been to increase by two the number of passengers that can travel, bringing the total number of occupants to seven, something that has been of great help in extreme moments for professionals such as the Sierra Bermeja fire, which yesterday was officially declared extinguished by the Junta de Andalucía.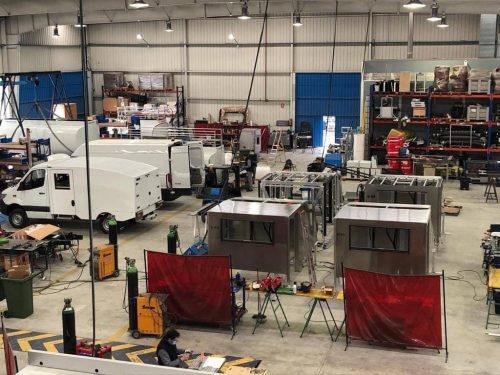 After a month and a half fighting the flames and more than 10,000 hectares burnt, one firefighter dead, two injured and more than 2,600 people evicted from their homes, the Sierra Bermeja fire has been a litmus test for the entire Andalusian system. And the 4x4s manufactured by Surtruck passed with flying colours. According to the company's commercial director for fire fighting vehicles, Manuel Santana, "our client already has five of these vehicles and we are now in the process of manufacturing three more because the final order is for 20 units. The feedback we have received, both from them and from the professionals who have used our vehicles, has been very satisfactory".
Santana recalls that "we dedicated many hours to the design of these 4x4s. We were in close contact with the forestry brigade and we are proud to have achieved such a recognised design and, more importantly, one that has proven its effectiveness in extreme situations.
The 4x4s incorporate a crew cabin designed and manufactured entirely by Surtruck, have an anti-tip interior structure, a large load area and can carry all the necessary tools, in addition to the 7 seats that increase the number of occupants by two with all the regulatory safety measures and ergonomic seats, something that makes the task more bearable and efficient for the forest firefighters. In addition to this, there are 3-point seat belts in all seats and the vehicles comply with the UNE 1846 standard for safety and ergonomics. Pioneering vehicles in the sector, which will soon prove their efficiency outside Spain "We are already receiving orders from outside our borders and we are proud that our Andalusian vehicles are helping professionals in other forestry areas of Europe in their tough task of extinguishing fires," concludes Santana.