Surtruck offers training to show the maximum performance of the vehicles, which were delivered at the end of 2021.
The staff of Calviá2000 has just received training to get the most out of the three new, fully electric, small-sized hydro-cleaning vehicles, which were delivered by Surtruck to Calvià Town Hall at the end of the year.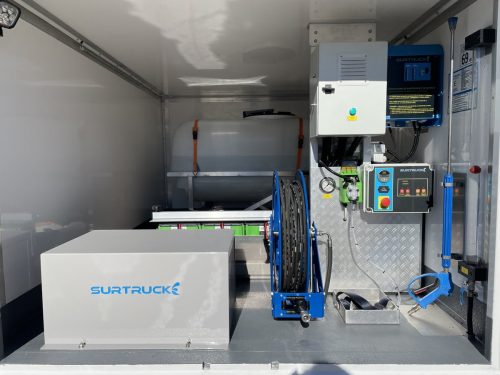 The ECO-Cleaning vehicles have an intelligent battery recharging system that allows them to offer services during two full work shifts. According to Antonio Venegas, Surtruck's commercial director of Road Cleaning, "together with the technician Miguel Márquez, we have travelled to Mallorca to offer the company's workers training so that Calviá2000 can get the most out of the three recently acquired ECO-Cleaning vehicles, which are in addition to the four pressure washers they already have".
The new vehicles have a feature that is highly valued by the population: the absence of noise emissions, the real ally for cleaning in urban areas as they operate at maximum performance without disturbing the neighbours. This is in addition to the absence of polluting emissions.
ECO-CLEANING ELECTRIC HIGH PRESSURE CLEANER
High pressure pump with a performance of 15l/min at 100 bar.
Power transmission via a 24 V electric motor.
Electric motor powered by LiFePO4 (Lithium) batteries.
Energy recharging system in the vehicle drive.
Mains charging on the right side of the vehicle with 25 mm Barcelona coupling.
600 litre polyethylene water tank.
A self-retracting rear reel.
Ergonomic high pressure lance.
High-pressure equipment control panel.
Electrical system control panel.
One amber rotating beacon on the cab.
Chemical dispenser.
Sandwich panel type bodywork, with side door and rear doors, prepared to work with the doors closed.
Epoxy paint treatment of the loading area floor.
Isuzu L35 blue series chassis 150hp (supplied by ITT).
5-speed manual gearbox.
Wheelbase 2500 mm
Climate control
Bluetooth radio
Telematics box
Acoustic reverse warning system.