It is a hydrocleaner van driven by power intake, and equipped with propane boiler to generate hot water and moist steam, which guarantees a lower CO2 emission into the atmosphere.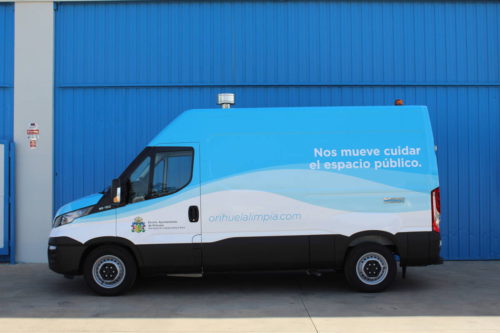 The vehicle has been acquired by the City Council of Orihuela (Alicante) through a public competition awarded to Surtruck.
Labeled according to the design of the Orihuela City Council, the new van has recently been presented to the media by the mayor of Orihuela, Emilio Bascuñana, and the councilor of Cleaning Viaria and Solid Urban Waste, Dámaso Aparicio.
The hydrocleaner equipment has been designed and manufactured by Surtruck, and adapted to a chassis Iveco Daily Vangon 35S16V 10.8 m3, with a wheelbase of 3,520 mm.
It is equipped with all the lights required by the current traffic code: rotating headlight on the ceiling, lights on the back of the vehicle, amber and LED type, with switch in the cab. In addition, it has a working headlight, in the rear loading area of the van, with switch on the control panel.
In its loading area, the floor is covered with non-slip grey paint and anti-corrosive, as well as being equipped with a 6 kg dust extinguisher.
The technical characteristics of this van are as follows:
Water tank with capacity of 1,000 liters; Tare: 800 liters; material: polyethylene.
Includes:
Top man's mouth.
Lower suction fitting
BCN45 filling/emptying fitting inside the cabin:
One located on the right side in the direction of the march.
Aeration/overflow of the tank
Visual level of methacrylate
Pressure team
High pressure pump from 23 l/min to 350 bar.
Pump actuation by means of a power take-off.
Soundproofing of the high pressure pump.
1 liter tank for anti-calcareous liquid with dispenser coupled to the water circuit.
Chemical dosing equipment with support for a 5-litre bottle.
Self-retracting, high-pressure rear windbreaker with 20m 3/8″ hose suitable for hot water and high-pressure lance with variable angle nozzle.
Rotary wash dome with quick link
Quick Hit gun
Rotary nozzle
Launch with fan nozzle and double trigger for detergent
Steam spear
Squashable filling hose, BCN fittings 45 and length 15m
Hot water boiler
With stainless steel structure, working pressure of 250 bar.
Powered by PROPANO fuel.
Safety elements included in the boiler; CUT pressure by minimum and maximum pressure of PROPANO, pressure and water flows, flame control and ventilation air pressure.
Smoke exit from the boiler through the roof of the van with the placement of a cylindrical cap.
Ready to generate wet steam.
Control panel
Boiler connection
Pressure regulator
220Vac plug for connection of machinery up to 800W
Working beacon connection
Pressure gauge
Emergency stop
Horometer.