Surtruck has provided training for the use of irrigation and watering tanks in the Barcelona town of La Escala. Recently, new vehicles had been delivered, and last week the cleaning staff was trained to get the most out of the soundproof hydrostatic tanks. After having completed the course for the cleaning staff, the equipment is already operating in the streets and is demonstrating in situ its efficiency and sustainability, features that are highly valued by URBASER professionals.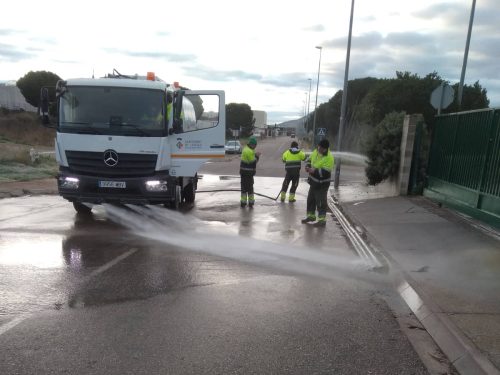 Technical characteristics:
Multi-stage pump of 18 m3/h and 20 kg/cm2 with vertical arrangement. Patented system NºU201531155. With mechanical seal.
Permanently primed by the tank.
18 HP oil hydraulic auxiliary motor connected to PTO for pump drive.
Oil tank integrated in the tank.
Engine and pump installed on a bench inside a soundproofed cabin integrated in the tank.
Watering and flushing bar integrated in the chassis with two sets of adjustable nozzles with Venturi effect and patented design No. 0522712 3. Complies with R61 and R93 regulations.
Safe driving system. Designed to comply with Article 13.3 of the Road Safety Law.
Rear reel with manual operation with 25m of hose with Ø 1″.
Three effects lance.
Set of side sweepers.
Water distribution pipes inside the tank.
Progressive and speed-dependent flow regulator.
Electric manipulator panel in the cab to operate the front irrigation and bucketing equipment.
Two rotating amber LED lights, one on the cab and the other on the tank.
Anti-underrun bar according to legislation.
Articulated side protection bars.
Rear vision camera.
Water meter.
Painting of the equipment in chassis color, including epoxy treatment and surface enamel paint.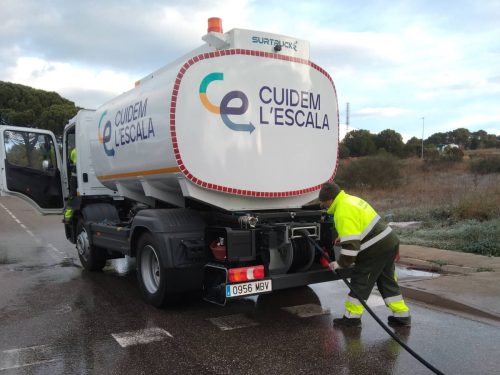 OPTIONAL:
Automatic drive for rear reel with 25m of hose with Ø 1″.
Anti-slip ladder with folding handrails.
Tool drawer on the side of the vehicle.
Hypochlorite dispenser.