On October 16, Surtruck delivered two hot water water-cleaning vehicles to Gandía Serveis Urbans S.A., formed by the Municipality of Gandía and FCC S.A.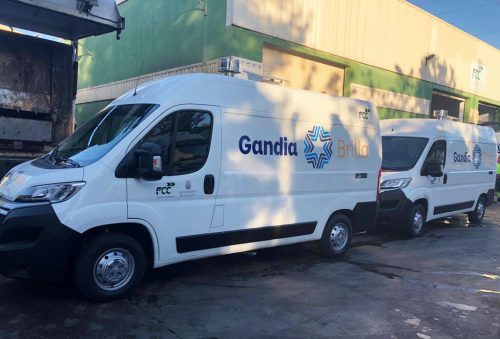 In addition to receiving the vans, a training course was held for the cleaning service operators by the Commercial Delegate of Surtruck, Luis Martín, and staff of the company's technical service.
Alongside these two vehicles, in a short space of time, a third unit of equal characteristics will be delivered.
The equipment that Surtruck has designed and manufactured is part of the 20 new vehicles that FCC incorporates into the service, in compliance with the contract with the City Council, and responding to the renovation of a machinery that already exceeded 10 years of life.
The technical characteristics of these vans are as follows:
Citroen Jumper Chassis 35
Tank with 800 liters capacity, made of polyethylene.
High pressure pump with a regime of 21 l/min, 200 bars at 1,450rpm.
Pump drive by diesel engine, powered from auxiliary diesel tank.
Motor/motor pump/soundproof pump group.
Two chemical electric dosing pumps with product attachment percentage regulator.
Self-retracting, high-pressure rear winding with 20 m. 1/4″ hose and high-pressure lance.
Hot water boiler, stainless, with burner, diesel pump and spark control.
Aluminum shelves with large capacity.
Splitting the loading area into two distinct cabins, separated by a watertight sheet panel.
Interior coated entirely with phonoabsorbent and flame retardant material, high density and high resistance to heat.