Last week, Surtruck delivered an Eco-Cleaning electrical cleaning equipment for the Palencia City Council cleaning service, managed by the company Urbaser.
In addition to this delivery, a training day was also held for municipal operators, in charge of Surtruck's technical managers. In the coming weeks, the municipality will receive one more unit, in addition to other equipment for this service.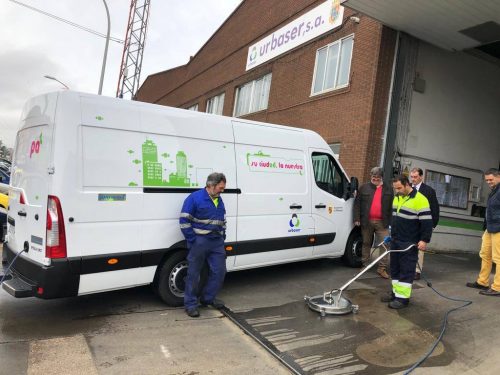 The technical characteristics of the Eco-Cleaning vehicle are as follows:
High pressure hydrocleaner equipment and electric drive.
Powered by DC electric current motor.
12 electrochemical cells connected in series.
Battery recharge kit through the vehicle's own thermal motor.
High pressure pump, with two working possibilities: 100Bar and 15 l/m, and 200Bar and 8 l/m.
Water tank of 500 liters capacity, made of polyethylene (tarted depending on the payload of the vehicle).
Retractable collection winding winder with 25 meters of high pressure hose.
10 meters of 45 mm crushable hose with Barcelona fitting for filling the tank.
Chemical dispenser.
Swivel led headlamp amber.
Hot water boiler powered by propane gas.
Paint remover kit.
Shelves with drawers.
Paved Bell.
Inverter generator.
Analog water meter.
Registration in right rear door, to work with the doors closed.
Body equipment on chassis RENAULT MASTER 3T5 VAN STD RWD 130 EVI, with wheelbase of 3.682 mm.