"The technology and organization is what is most surprising about Surtruck."
"I started by myself preparing the ship a year and a half ago. Now there are 35 of us."
He has been part of Surtruck's staff for a year and 4 months and, although his incorporation is recent, he has not found it difficult to adapt. He started working at the main headquarters because of a new project that showed the company's growth, the adjacent 4,000 square meter warehouse, which responded to the need for manufacturing space. When Francisco Manuel Esteban López arrived at his new job, he found "even boxes of soft drinks from the company that used to work there. It was like starting from scratch to fit it out," he recalls.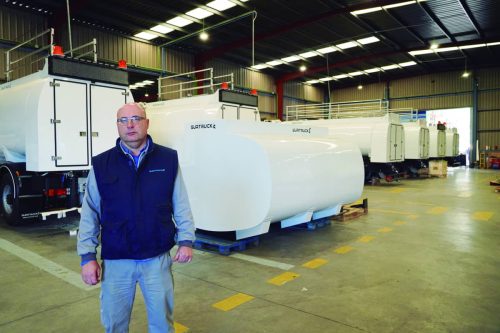 He started to work hard as a warehouse manager and storekeeper, the new job challenge he had based on his experience in the metal and automotive sector. This knowledge was backed up by his specialized studies, such as forklifts, among others. The job was not unfamiliar to me," he explains. And I adapted very easily because being in this company is exciting. It is so advanced and the vehicles are of such high quality that it is a source of pride to work for the brand," he says.
What he enjoys most is serving the public, one of his tasks, and what gives him the most headaches is undoubtedly the alarm. "We have a very sensitive system, because it detects everything to make us safer. Maybe that's why it has given us a scare or two: it has sounded at three o'clock in the morning, at four o'clock in the morning… as the sensors detect anything, sometimes we feared that it was an incident and it was just a small animal that had slipped in somewhere".
Francisco Manuel has also found it easy to get along with his colleagues, which is essential considering that there are more of them every day. "I started out on my own to prepare the ship and now there are 35 of us. But that is precisely what is most exciting, in his opinion, about this job. "I had never been in a vehicle factory before. I was surprised by the quality of the vehicles and everything they have behind them, the hours of research, patents and work. I am proud to be part of a project of these characteristics and I am sure that soon these warehouses will be too small for us. The growth is going to be exponential.
HIS GREATEST HOBBY, ENJOYING TIME WITH HIS FAMILY
The best moments of Francisco Manuel Esteban López are the ones he spends with his family. With Mari Ángeles, his wife, he enjoys a lot and is very proud of the family they have formed with their children Lucía, 19, and Andrés, 24. Another of his hobbies is walking, listening to music and stopping for a beer, something that, if it can be shared with friends and family, will undoubtedly be enjoyed much more.