After-sales increases its customers thanks to customer loyalty, rapid response and post-delivery training
"We respond with our staff to all incidents in less than 24 hours".
On February 2, Miguel Márquez López will celebrate three years at the helm of Surtruck's After Sales Service. A challenge that came into the professional life of this industrial technical engineer in the Electronics branch when he was working in another company, a small engineering company in which he was in charge of after-sales and maintenance of machines and tools.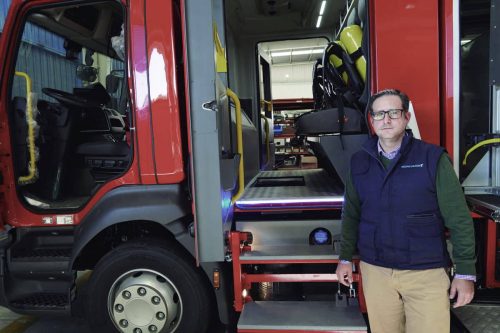 Surtruck needed to increase its After Sales department and wanted to hire a manager who would make this crucial area grow, not only so that customers have peace of mind when they purchase a vehicle, but also to assure them that they will not have problems with spare parts, that they will receive the necessary training, that they will get an answer to their problem within 24 hours when they have an incident….
Surtruck had a need and Miguel Marquez was the right person. The opportunity presented itself and he made a decision that changed his life.
Q.- You have been in charge of the After-Sales department for three years now. Does the job fit what you thought it would?
A.- Perfectly. I knew it was going to be like this, I didn't make a single mistake.
Q.- Does the assistance phone ring a lot and at any time?
A.- Clients usually call me during working hours. They know that we give them an answer within 24 hours.
Q.- Is it always for breakdowns?
A.- Sometimes they call because they don't know how to use the vehicles correctly or they don't know all the features they have. Maybe they were offered training and they don't remember. But we count on it, we clarify all their doubts and we try to solve the problem. This happens mainly in towns where the operators who use the vehicles are circulators.
Q.- Do you receive more notices for firefighting or cleaning?
A.- We receive more cleaning alerts, since firefighters usually have more technical training and assimilate the use of the vehicle better.
Q.- Has the department grown in these three years?
A.- Yes, a lot. The structure was determined by Miguel Jiménez, and I have followed his same line. But now there are many more customers because we have tried to build customer loyalty based on the speed of response. Surtruck has increased by almost four times the number of vehicles manufactured in these three years. We are approaching 500 units manufactured. That means that we have trained our employees, we have answered their questions and we have taken care of maintenance during the warranty period.
During the warranty period, which lasts around two years, customers see that we respond quickly. And that endorsement is making us grow in after-sales customers.
Q.- How do you see the future?
A.- Ambitious and exciting. Ambitious because Sutruck is fighting hard to get where it is: to close sales, to manufacture the best vehicles, to pamper the after-sales service so that everyone is happy… And exciting because here we never stop innovating and improving. The vehicles evolve in new versions that are even better than the previous ones. And that makes me very proud as a professional and as a member of Surtruck.
A sportsman who loves nature and enjoying his family
Miguel Márquez López is very clear about what he does with his free time: he enjoys spending it with his family. He loves spending time with his wife, his children, who are 5 and 18 years old, and his parents and siblings. But he also has two other passions: sports and nature. He chose to live in Gelves because he loves to enjoy the countryside and green spaces, as his living environment. And from this place where he lives it is common to see him going for an early morning run along the paths of the Aljarafe, which he knows to perfection. It is also easy to see him with a book in his hands because reading is another of his hobbies, a hobby he even shares with his children reading books together.