"Customers are already familiar with our Eco-Cleaning system and associate us with sustainability".
"Without the commitment and dedication of our team we would not have been able to achieve this exponential growth."
He arrived at Surtruck in its early days, around March 2015, becoming one of the youngest signings on the staff. His experience in other sales departments in the machinery and automotive sectors was an asset on the rise that made the difficult challenge easier: marketing the production of a company that was just starting out.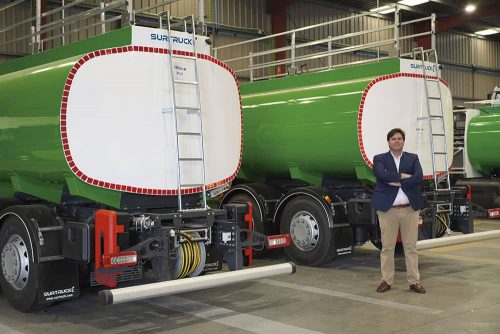 Antonio Venegas remembers those moments with excitement and emotion, but these feelings do not make him forget how difficult the beginnings were. He was new to the bodywork sector and it was difficult for him to carve out a niche for the name that was being born, "but the quality of our workshop and our team's capacity for innovation, which was already in sight, soon won the day", he explains.
Seven years have passed and day-to-day sales in a changing market continues to be difficult, although now for different reasons. In all this time, Surtruck has established itself as a well-known and highly valued brand, and the commitment to sustainability that has been made in cleaning has made Eco-Cleaning vehicles the most sought-after by institutions, organisations and companies.
"We saw clearly from the beginning that we had to offer less polluting and more environmentally friendly vehicles. That is why we started working with clean energies and the result is that our customers already associate us with Eco-Cleaning technology, developed by our R&D department and manufactured and tested at our headquarters, with the corresponding patents".
This evolution has raised the number of units manufactured by Surtruck, both in the pressure washer and tank versions, to one hundred. In addition to all this, the company has been awarded the Reduzco carbon footprint certification by the Ministry for Ecological Transition, the result of the Andalusian firm's work towards sustainability and a factor that is highly valued by customers.
As for the goals he has set himself, Antonio Venegas explains that he cannot envisage the long term for a company that has evolved so much in so few years. In the short and medium term, he is clear that growth is going to be great and his dream is for the brand to make the leap into international markets, a gap in which he is clear that "we still have a long way to go".
In fact, they faced a similar challenge when they wanted to enter other national markets, such as Madrid and Catalonia. "At the beginning it was complicated, but when we were given the opportunity, the doors opened for us. Because our vehicles have a lot of quality and the customers appreciate it from the very first moment", he explains.
TECMA, VERY POSITIVE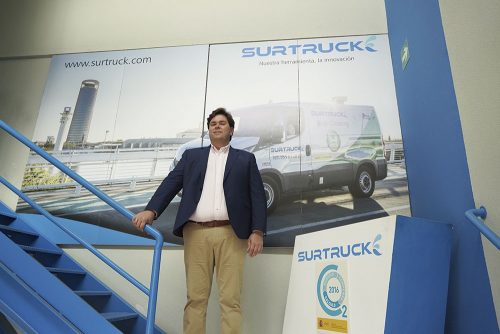 He has just returned from TECMA, the International Urban Planning and Environment Trade Fair, which was held at IFEMA, and the balance is very satisfactory. "In 2016 we made a strong commitment to this national showcase, and this year it has been very important to be there because it has allowed us to recover normality after the pandemic and contact with customers. Being able to meet them and show them all the technological advances we have been working on over the years has been very important for us. That's why the final balance has been very positive," he explains.
Now the work of processing contacts, processing orders and closing deals remains to be done. Tasks in which Surtruck's Commercial Director of Street Cleaning is in his element, especially because he is at ease because he has the backing of the workshop and the entire workforce. "The key to Surtruck lies in its human team. This is a chain and each part is fundamental. Without the commitment and dedication of all of them, it would have been impossible to achieve this exponential growth. Of those of us who are here now and of the initial pillars, I would like to highlight that the important work that Antonio León, Juan José, Miguel Jiménez, Asunción, Juan Gallego, Francisco Algaba, Santana, Ana, Loren, Juanma and Luis Martin, among others, did in their day, has paid off and is the key to where we are today and how we can dream of the outstanding place we want to be".
ENJOYING FAMILY AND FRIENDS, HIS GREATEST PASSION
He loves football and his heart is red and white. But apart from his passion for the club he loves, Sevilla, what Antonio really enjoys is his family: his wife, Inma, and his three children. Enjoying time with them is what makes him happiest. He also loves spending time with his friends and travelling, something that makes him see other ways of living and enjoying life.
An exercise to broaden his horizons which he then transfers to his work and helps him to achieve the challenges he never ceases to set himself, in his desire to always improve himself.