"What I like most about Surtruck is the enthusiasm of the team and our eagerness to improve".
He is part of the founding team of Surtruck, where he arrived as an Electricity worker. With eight employees under his responsibility, he knows that the project will not stop growing.
He had a lot of fun in Hannover, touring the Interschutz halls. His attendance at the most important trade fair in the fire-fighting sector last June led him to discover many advances that are on the market, and also to see the high level achieved by Surtruck, something that for him has a very simple explanation: enthusiasm.
"When I see Juan Gallego, our manager, and Francisco Algaba, our workshop manager, thinking about something they want to achieve or looking for new ways to achieve a different way of working, I realise that growth in R&D is achieved in this way, because of the passion and enthusiasm they put in, which drags us all along, because they are like little children, truly passionate about what they do".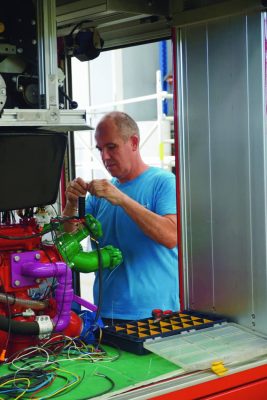 It is this passion and eagerness to excel in his work that one day made him land at Surtruck and become part of the founding staff. He started on 19 January 2015 and came with extensive experience as an electrician in the fire-fighting sector, to which he has dedicated practically his entire professional career. He only spent two years, from 16 to 18, working in a motorbike workshop. "It was precisely during this period that I met Francisco Algaba and we hit it off from the very first moment. I admire him a lot and I feel proud to be part of his team. He was decisive in me coming to work here," he says.
For the rest of his life, practically his entire career, he has been involved in the fire-fighting sector. He started out self-taught, and his eagerness to learn has pushed him to improve and train himself to the maximum: in addition to his professional qualifications, he has a tower crane operator's licence, a type C lorry licence and a higher degree in prevention.
RAPID GROWTH
Arriving at Surtruck was a personal decision. He believed in the project and is very happy not to have made a mistake, quite the contrary. "I joined as a team leader, but I was the only worker, I had no one in charge of me. Today I have eight workers in my team and there is now another head of Electricity so that we can control the work".
Another key to Surtruck's success is, in his opinion, the desire to innovate and to do the job well that the entire staff has. "We only work with leading brands and top quality materials. Not just any old thing will do, because our prestige is at stake and we want to be the best. This is a common feeling that we all share, our guide to follow".
COMPAÑERISM
Juan José also enjoys the good working atmosphere at Surtruck. "There is no birthday without a cake, congratulations or support when someone needs it. We all know each other very well and we are a big family, in which there is a lot of affection. This solidity helps us to focus more on our work and to fight to achieve our challenges and make our shared desire to be the first a reality. And this is something we have kept very much in mind at Interschutz. We have been proud to be the only Spanish fire fighting vehicle manufacturing company to exhibit in Germany, which is a source of pride, especially if we take into account our short history of just over seven years. Because of all this and because of our human capital, I am sure that we still have a long way to go".
FAMILY, HIS GREAT PASSION
Although he loves to work, Juan José's true passion is his family: his wife, Encarni, his daughter, Paula, who is 16, and his son Jorge, three years younger. They are responsible for his good humour and his permanent smile.