"The most difficult thing is to interpret what the client wants and adapt it to the regulations and to what our suppliers offer"
He arrived in Spain in 2004 from his native Venezuela and that same year he started living in Seville. What began as an adventure became an option for work and a way of life in the face of the bad situation his country was going through, and has now become his place in the world. Because now, more than three decades later, he cannot imagine his life far from this land. The reasons are varied and important: He put down roots by marrying a Sevillian woman, Rocío; his daughter, Alexandra, was born here, and he feels very happy and fulfilled in his work.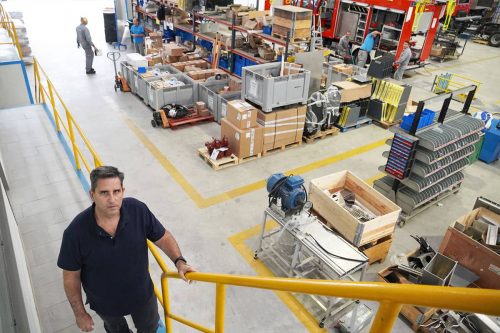 But the beginnings were not easy. It took him a year and a half to get his degree as an industrial engineer recognised and after his arrival in Seville he had to look for work in the Andalusian capital and in Malaga, where his sister lived. He was never short of work thanks to his perseverance and not to despair. He worked for several companies, such as MP and Albatros, but he also had to leave for two years for Tecnove, a firm in Ciudad Real, which forced him to move his residence. In all these jobs he worked as a design engineer, but he could not find a consolidated responsibility.
Paradoxically, it came to him when he had just become unemployed, after his time in Ciudad Real. It was at that moment when he received a call from Surtruck's manager, Juan Gallego, proposing that he join the staff. A decision that changed his life in 2016 and brought him a job stability that he had not had until then.
GROWTH
"When I joined Surtruck's Technical Office as a design engineer, there were two of us. Now there are six of us. The company has grown significantly in these six years and that is exciting," explains William Ferro.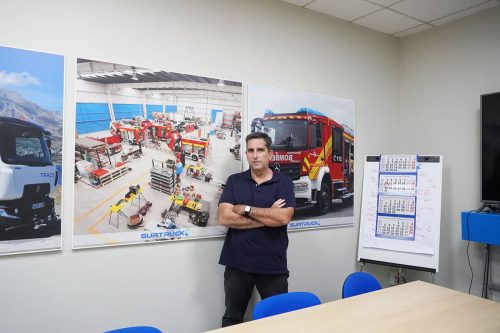 With the increase in staff, it has been possible to specialise tasks and William has been put in charge of homologations and acts as a liaison between the Technical Office and the Sales Department. It is not easy to equip vehicles with the latest products that meet customer demands and comply with all the regulations. And that is one of his main functions. He is also in charge of homologations, which is not an easy process. In addition, he has to attend talks, courses, and keep up to date with the very frequent changes in regulations…
"The most difficult thing is to interpret what the customer wants and adapt it to the regulations and to what our suppliers offer. Because one thing is what we would like the vehicles to carry and another what can be done because it is technically feasible. We always try to achieve this, and when we can't, we look for alternatives," he explains.
Another of his responsibilities is to provide commercial support during technical visits to customers and to explain the most suitable elements that can be installed in vehicles to achieve the desired results.
When asked if he likes his job, he answers with a broad smile. And to the question of how he sees himself in the future, he answers without any doubt: "growing with the company and with more responsibility". It is precisely this growth at Surtruck that is bringing him new professional challenges in his day-to-day work and which leads him to be at the cutting edge "because technology is advancing rapidly and we have to be ahead of the curve to introduce these improvements, adjusting to the requirements of the market," he explains. A challenge that is the key to being the best".