The City Council of Seville, through the Delegation of Governance and Major Festivals, has acquired four new vehicles for the Fire Prevention and Fire Fighting and Rescue Service, Firefighters of Seville, three of them designed and manufactured by Surtruck.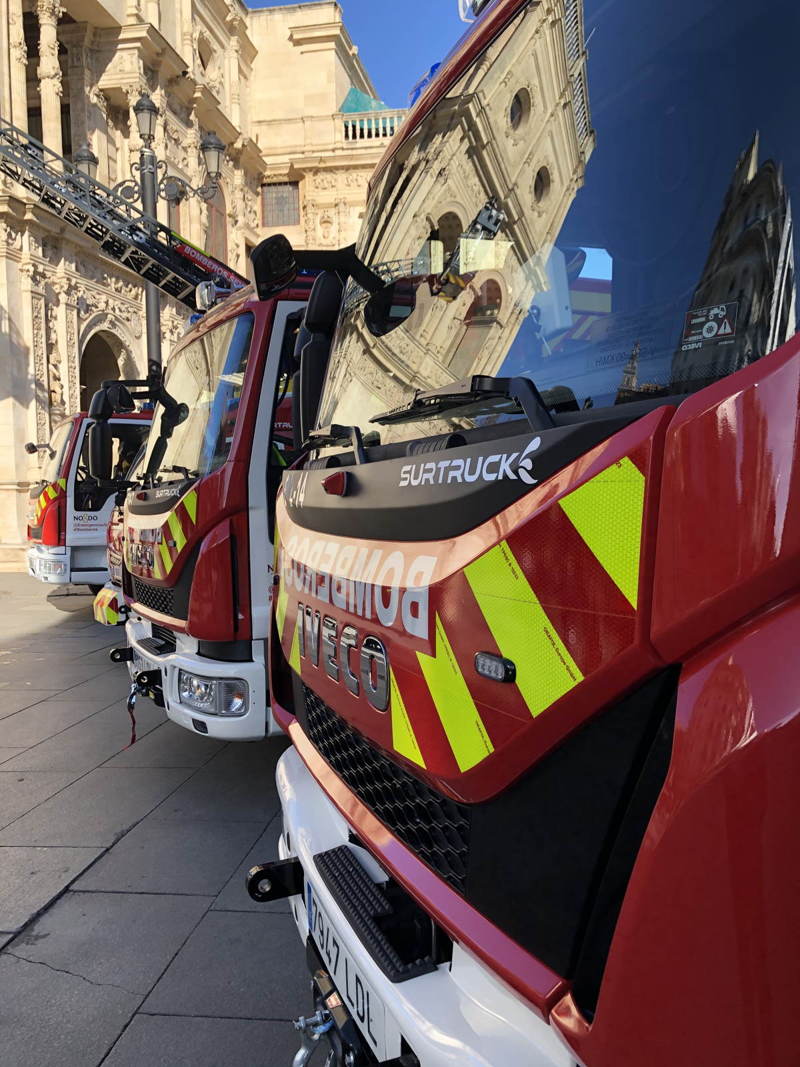 The first is a light urban pump, model Fast Five, with a design that prioritizes the small dimensions, improving the response in the neighborhoods of the southern, north and east areas. It adds to the other four that already work in the streets of Seville, also designed and manufactured by Surtruck, and in this way the catalog of resources is completed and guaranteethe presence of such a unit in all parks.
Second, the City Council has acquired a large water storage extinguishing vehicle — 1,500 liters — and large dimensions — up to 2.20 meters wide — that allows the transfer of a greater amount of material and personnel resources as well as using a higher power extinguishing pump. It is the beginning of the renewal of the models that are used today.
And finally, a new lifetruck equipped for specific work in traffic accidents, high-altitude rescues, confined spaces, and interventions in the presence of electricity through specific tools is added to the south park. This vehicle has smaller dimensions than the current one and will reinforce the attention to neighborhoods such as La Plata, Rochelambert, Bami, Bermejales or Bellavista, in which it is common to open homes for the emergency care of elderly people with reduced mobility.
The new units incorporate additional material storage devices on the ceiling that are accessible from the ground through a modern displacement system and which saves significant time. They also include a set of hygiene with antiseptic products that can be used after risky interventions.
They also have innovative driving aid systems such as 360-degree vision through cameras that facilitate firefighter-driver maneuvers by providing information on the vicinity of the vehicle from any perspective.
The new vehicles will be incorporated into the service, after the corresponding period of personnel training and team integration.
At the presentation event, in the Plaza Nueva de Sevilla, the mayor of Seville, Juan Espadas, has stated that "With this investment we continue to advance in the improvement of the equipment that the fire service has. In total, in recent years a score of vehicles have been incorporated, which also continue to include in their design the improvements proposed by the service professionals themselves". With him, the delegate of The Governorship and Festivals Majors, Juan Carlos Cabrera, attended.
For the design of these vehicles, both in the study of needs and in the monitoring of manufacturing, the experience and opinion of the Service Headquarters and a working group composed of operational personnel of direct attention to accident scare have been struck , NCOs, sergeants and firefighters.
Video