The 6 light urban fire engines (BUL) join the other 6 delivered in December
With the delivery just made by Surtruck, the Cadiz Provincial Fire Brigade Consortium (CBPC) now has 12 new light urban fire engines purchased to completely renew the provincial fleet, which will consist of a total of 23.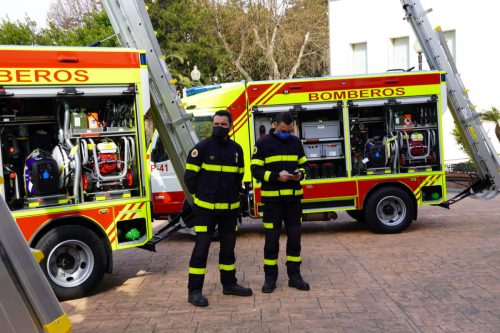 The presentation, held last Friday, was attended by the coordinator of the General State Administration in Campo de Gibraltar, Francisco Gil; the subdelegate of the Junta in the region, Eva Pajares, and the mayors of San Roque, Los Barrios and Tarifa, Juan Carlos Ruiz Boix; Miguel Alconchel and Francisco Ruiz.
Representing Surtruck were the Commercial Director of Fire Fighting Vehicles, Manuel Santana, and José Luis Pérez Crespo, industrial engineer of the Technical Department and responsible for the project in the distribution of materials, tools, equipment and ergonomics of the BULs in Cádiz.
During the presentation, it was emphasised that this is a customised design drawn up by Consortium technicians and executed by Surtruck, whose main characteristic is that they are small vehicles, with the most advanced and complete features in fire-fighting systems, which makes them suitable for operating in urban centres with narrow streets.
The event was attended by the president of the CBPC, Francisco Vaca, the mayor of La Línea, Juan Franco, and the chief intendant of the Consortium area, Ignacio Pérez Prado.
They highlighted that the so-called Light Urban Pump (BUL), which began to be forged in 2017, has a complete equipment equipped with technological advances, protection systems, capacity for a thousand litres of water and the certifications that have achieved its homologation.
Vaca pointed out that this is the largest investment made in the last 15 years.