Surtruck will have the first delivery of twelve vehicles ready before the end of the year.
Francisco Vaca, President of the Cadiz Province Fire Brigade Consortium, thanked the visit and expressed his satisfaction with the development of the manufacture of these vehicles, which will begin the renewal of the CBPC's vehicle fleet. The vehicle, designed in its entirety from the Consortium's basic bodywork, is at a very advanced stage, which means that the established delivery deadlines can be met, which will allow the first 12 of the 23 vehicles awarded to be delivered before the end of the year. The remaining 11 are scheduled for delivery in 2022.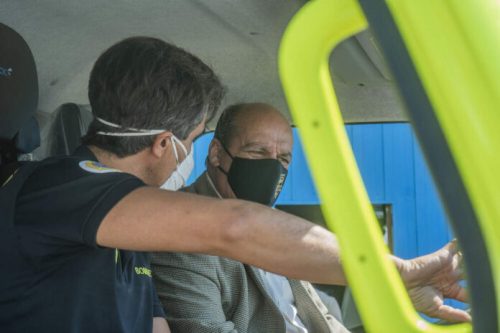 This is the largest investment made by the CBPC in the last 15 years. Together with the equipment of the professionals, both personal and specific actions, the new parks and the works carried out and being planned in many others, it is one of the most important investments made in decades to renew and modernise the province's fire service.
Vaca highlighted the work being carried out by the commissioning committee, made up of the Zone Chief Quartermaster, Ignacio Pérez Prado, and the representatives of the different trade union centres, in the design of a light fire engine which will be one of the most advanced and complete in the fire-fighting services, both nationally and internationally. He also welcomed the fact that an Andalusian company has been awarded the contract. Surtruck S.L. was awarded the contract for the first 23 vehicles in November last year.
The visitors were welcomed by Juan Gallego, manager of Surtruck, Gonzalo Melgarejo Martínez de Abellanosa, Administrator, Manuel Santana, head of the Fire Fighting Sales Department, Teresa Gentil, from the Equipment Sales Department, and Workshop Manager Francisco Algaba.
The official presentation of these first 12 fire engines will take place at the end of this year. The president, who met last week with the president of the Provincial Council, Irene García, informed her, among other issues, of the development of this project and the councillor promised to attend. The mayor of Cádiz, José María González, and various authorities will also be invited.